Tucker Gun Leather – The Answer Holster
---
Tucker Gun Leather – The Answer Holster
---
I just received my IWB holster for my carry pistol a few days ago and had to post about it……its called "The Answer" by Tucker Gun Leather and truly is, the answer. I own one other Tucker holster, but it is an OWB and doesnt conceal well in the summertime. Great holster as well (HF2) but I needed a smaller summertime footprint.
My carry gun is a Kimber Ultra CDP II. It's a great little gun and has never failed me. So after looking at different holsters and whatnot, I figured that if I am going to carry this thing around all the time, it might as well be complimented by a great carry holster as well….something that's practical, comfortable and of high quality. The HF2 definitely fits that bill for the winter with clothing like sweatshirts, hoodies and whatnot, but it was time for an IWB. Having been a previous customer of Tucker and really liking what I have seen, I first decided to try out "The Secret". It was a nice holster, formed specifically for my CDP II, but I found that it just didnt quite fit right, and it kept clicking my slide lock safety to the OFF position……something I could not put up with when you're carrying a Single Action, cocked and chambered pistol. It just didnt give me good peace of mind, even through there is a second layer of safety on the pistol (grip safety). I don't think there was anything wrong with the holster, but this kept happening probably because of the way I wear it, and my safety might be a little looser than normal. In any case, Rob at Tucker Gun Leather took the holster back no questions asked and I inquired about "The Answer". After reading up on it and looking at the design, I decided to try it out.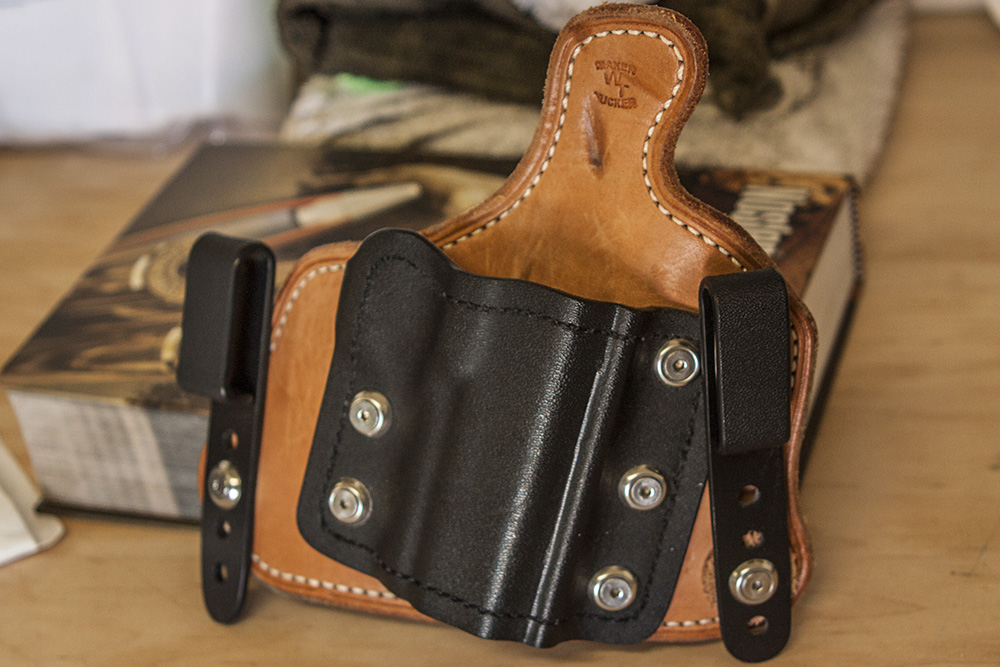 I've always been a little leery of kydex; not because I think it's unsafe or less durable, but more because of the way it feels. There is something about a good quality leather holster that I just cant get away from. It's tight, it doesnt wear the gun's finish, it breaks in….I dont know, but these things have been my experience/perception and I just like leather (maybe I havent given kydex a fair chance). Naturally, I was a little leery of The Answer simply because it is a hybrid of kydex and leather. But upon ordering, I saw that Tucker gives an option to line the inside of the kydex with leather….I thought, "Perfect!!!". It was $20 more for this option, and now that I have the holster, it was money well spent, IMHO.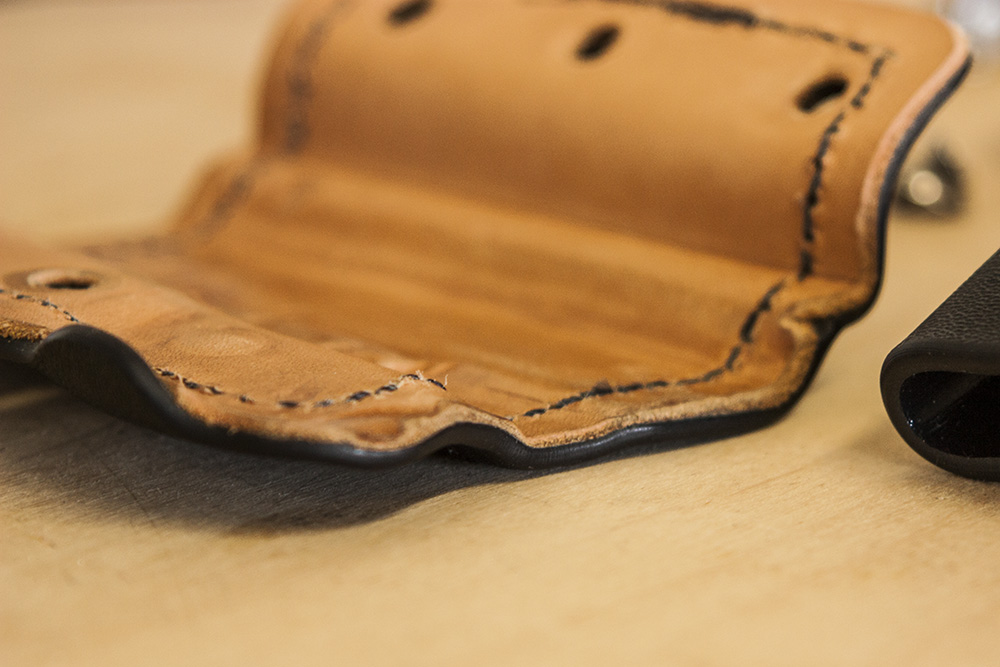 The Answer was also a little bit more expensive that The Secret, but not by too much. Out the door, a leather lined Answer will cost you $140. Seems a little steep, but when you see, hold and feel the holster for the first time and slip your gun into it (not trying to sound dirty….really), it will leave nothing to doubt that you have a quality holster. Here are some things I noticed about it:
1) The back of the bolts do not go through the leather so that the metal never touches your skin…..a very nice touch.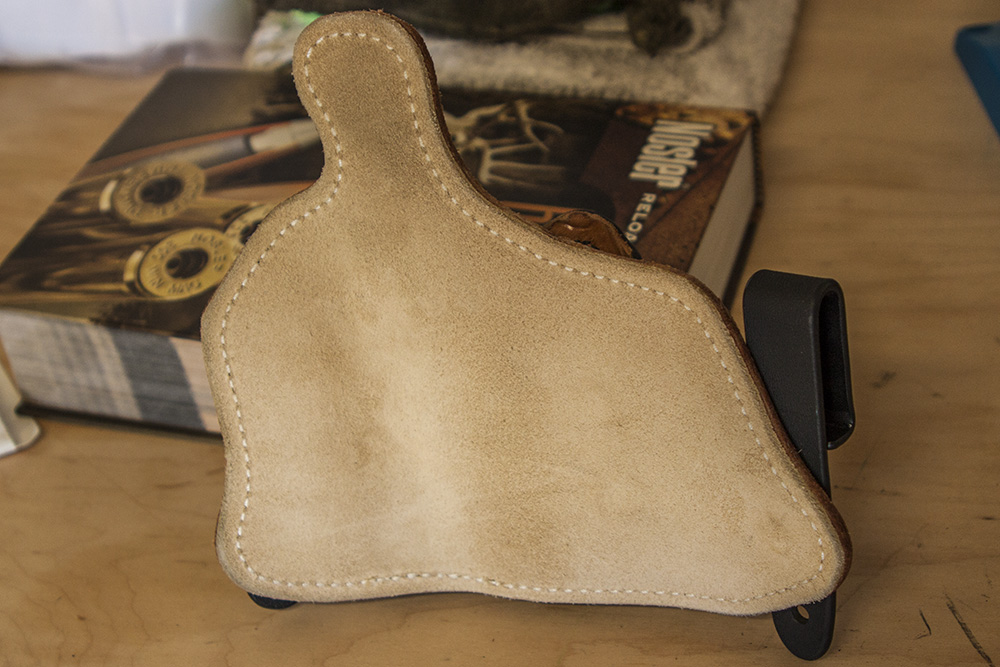 2) The kydex piece is adjustable in tension with rubber elastomer pillars so that you can increase or decreate it to your liking, and there are two points of adjustment (muzzle and body).
3) C-Clips are pretty thick. These can swivel and be shortened/lengthened by choosing the hole you put the screw through to anchor them down. They dont seem likely to wear out any time soon, but putting the holster on and taking it off should be done carefully because the plastic seems like it could snap if stretched to a breaking point. I dont like slipping the clips over the belt as it stretches them and might contribute to faster wear/loosening.
4) It is tuckable, meaning you can tuck your shirt in and only the belt clips will show through. I cant see using this feature, but it's nice to know I can if I want to.
Getting a new holster always requires some experimentation. I have found that that The Answer prints the least when it is positioned at my 2:00 (pictured below). This makes it so that the muzzle/bottom of the leather pushes into my leg somewhat when I sit down, but also is very comfortable when driving. The further you bed over when you are sitting (like putting on your shoes), the harder it pushes into your leg. With normal sitting doesnt, however, it doesnt bother me. The 4:00 position is the most comfortable all around except when driving or leaning back against a chair. The butt of the pistol is pushed into your back because of the chair and is unbearable while driving. The seatbelt pushes you into the chair even more so you cannot manipulate your body to alleviate the pressure. But when standing, the 4:00 position is almost like you are not even wearing anything….REALLY comfortable. As far as printing goes, as long as you dont bend over to pick something up so that your shirt tightens on your back, it hides very well. The 3:00 position is kind of a compromise between the 2:00 and 4:00: It hits your leg only in bending over extremely far, and it doesnt push into your back when you drive or sit down in a chair (although you may feel the grip touching the chair), but at least for me and my body type, the 3:00 position is the one that prints the most. I find that unless I cant the holster extremely, the pointy end of the grip sticks out of my shirt. I can adjust the cant somewhat, but it then goes past the optimum drawing angle for me. I dont prefer a strong cant because I have longer arms and I have to bend my wrist too much. I also dont like the 45 degree pull away from my body towards my intended target….I prefer near a straight up pull which The Answer nearly allows me to do. As far as comfort against my body, I chose to have the rawhide against my skin so that it doesnt get sticky or sweaty when it's hot (Sacramento heat). I find that it also stays well put against my body because of this as well….the rawhide grips clothing well and skin, but I prefer to wear an undershirt because it's just a little too rough for my liking….any rawhide for that matter, not just The Answer.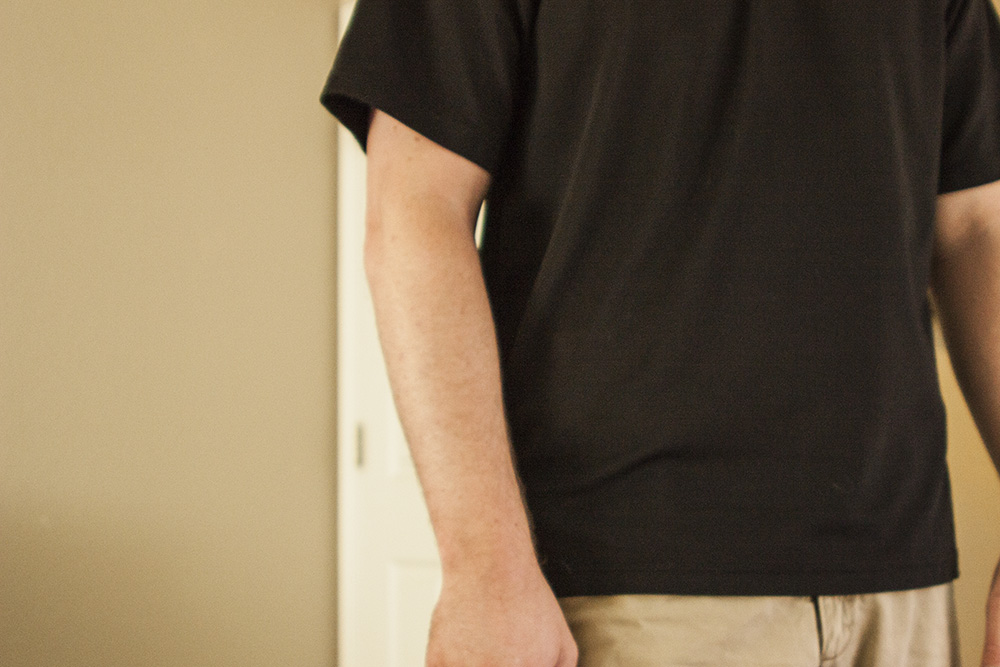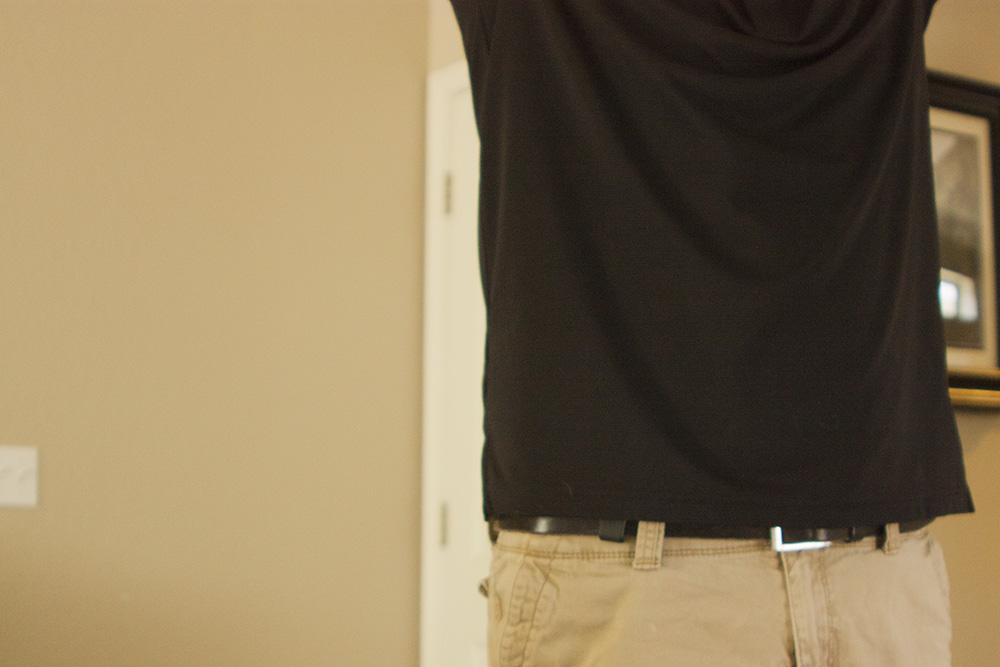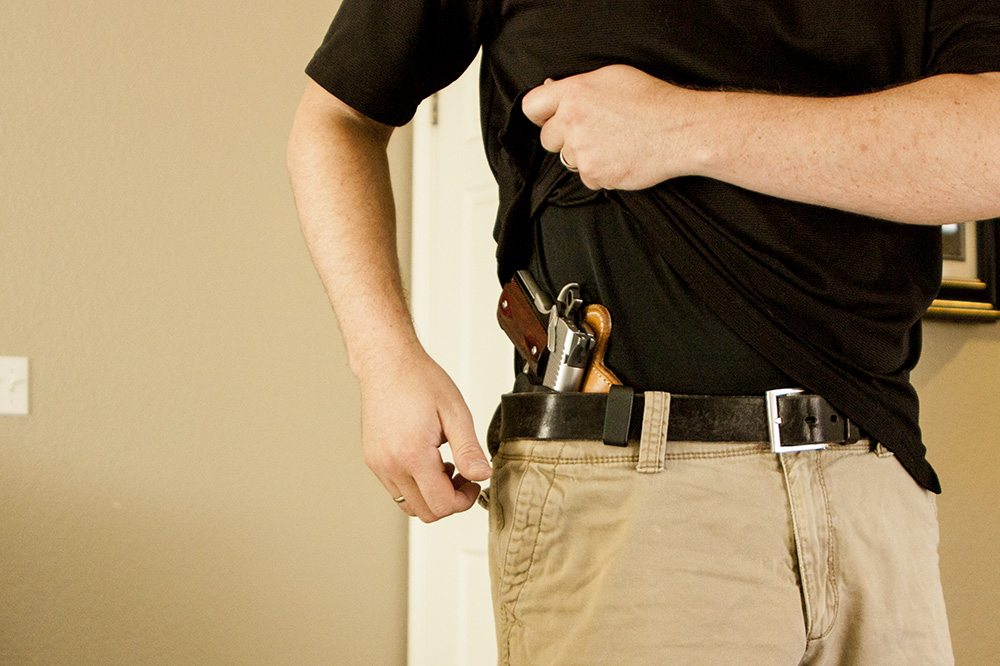 For drawing, I haven't had time to find the optimum tension on the kydex bolts….It is a little tight at the mouth which makes it harder/longer to re-holster, but that will break in over time. The gun is held extremely securely and has a taylor-made "like a glove" tension. It is moulded perfectly to the contour of the CDP II. But even when drawing, which is the most important part if you even find youself being forced to use it, it is very easy even if a little tight. The draw is smooth with the leather lined kydex, and even when drawn half way, the muzzle is still not banging against the sides because it is too lose….it has a steady and consistent retention all the way through the entire draw. Also, a nice side note is that if you have the Kimber Ultra Covert II that comes with the crimson trace laser grip, there is a little notch in the Kydex that lets that fit. There is enough retention on the pistol that it will hold by itself upside down: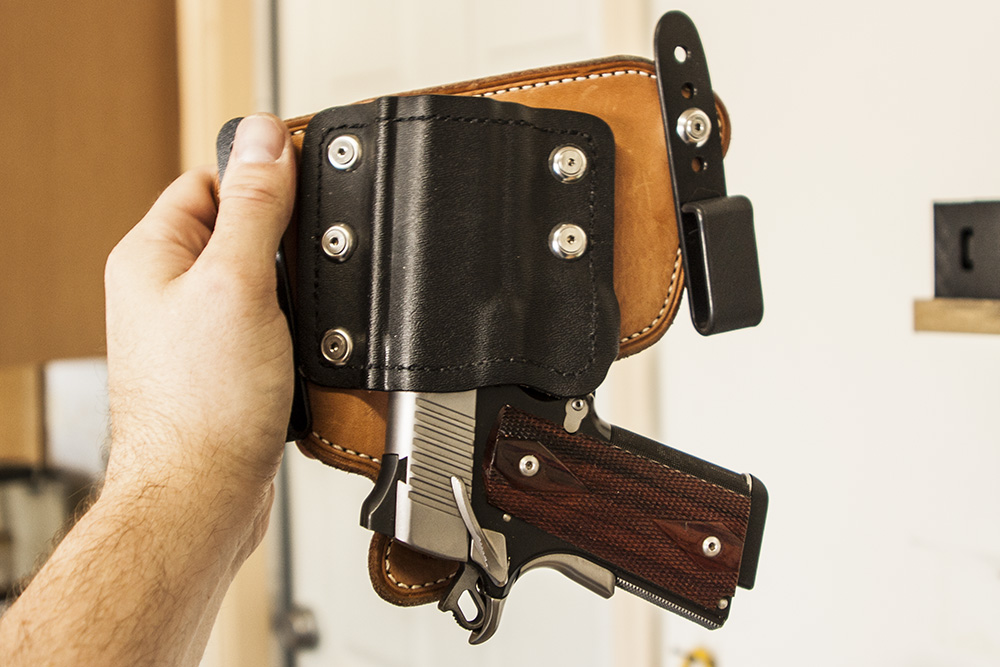 As for the security of the holster when drawing, I find that the C-Clips hold onto the belt very well and the holster itself doesnt move or slide around whatsoever….it is held in place in the waistband very securely. This is one of my biggest pet peeves with cheap holsters. I HATE how they move around and you have to hold it in place manually with your other hand while drawing (which should be holding your shirt out of the way instead). The Answer, does not twist, turn, bull up, slide down or anything. Having the C-Clips wide and far apart give two points of retention on the waist band, so that no matter what angle you pull up from, it is still held in place and the pistol slides out without issue.
Anyway, I have probably babbled on long enough. I hope that someone finds this review helpful if they are looking for a new holster. I would definitely recommend this to anyone….especially to someone that has a heavier or larger carry gun. You might not need the amount of security this holster give you if you have a really thin/small gun. But for my CDP II, it is a match made in heaven.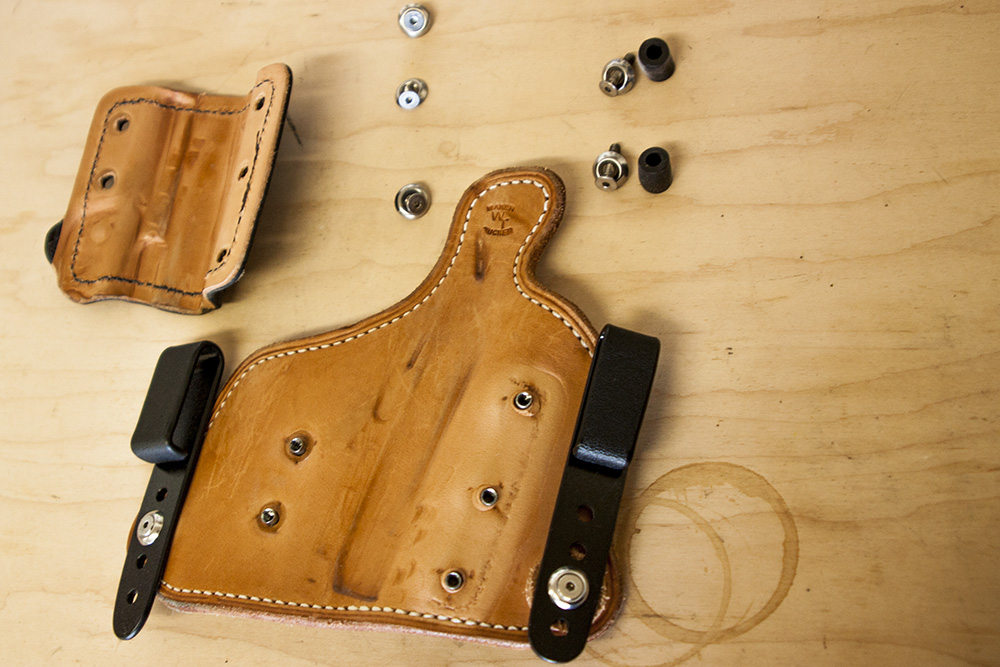 Final Thoughts
The Tucker Gun Leather IWB holser provides great retention, no issues with holster movement when drawing, and leaves a small footprint. Small things like difficulty of reassembly are not a huge deal because you dont disassemble very often, and the lack of ability to adjust and make big changes to the way it carries is not a big deal for me as I like it right where it is. Comfort being pretty good but not great, I'd rate this a solid 4+ stars and recommend it for anyone looking for a good IWB holster for concealed carry.
Overall Score
4.2
Very Good