---
Vortex Viper PST 1-4×24
---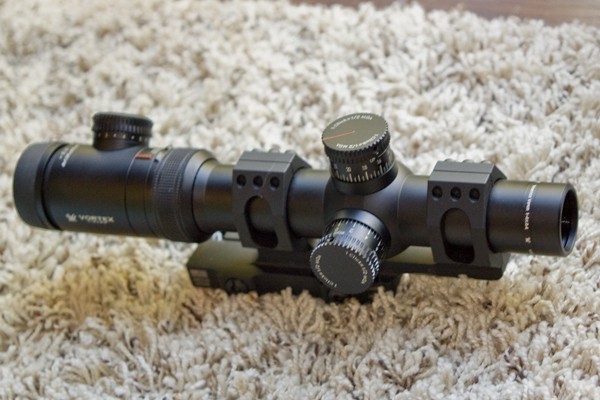 So I just got my Vortex Viper PST 1-4×24 and have spent a little bit of time with it. I thought I would post up a review and some pictures and share some thoughts to those who have been thinking of getting this. So for now, consider this my "initial impression".Ok, so first off, I bought this from Scott at Liberty Optics. Let me say, buy from him with confidence! I ordered on Monday, he received his stock on Wednesday and I received it Friday afternoon. Communication was great and he is a stand up guy. He also threw in some flip up lens covers….something I was not expecting…..free of charge!
So I opened it up and my initial impression was, "Wow, this thing is built like a tank!" Really robust and it just felt like it was made with quality as a top priority. I start playing with the settings, install the battery, click the turrets, adjust the diopter, and all goes well. The turrets have very positive clicks and cannot be mistaken….in other words, you would never NOT know if you turned the turret or not. And if you happen to forget how many clicks you turned it, you have the numbered turret with a slot to tell you where you are at. The top turret includes a fiber optic line that also indicates where you're at. Not necessary with the numbered turrets, but a nice touch. The diopter lens turns very smoothly….however, I found that it turns a bit too easily…..but definitely not a deal breaker. It wont turn if you bump it, but it doesnt exactly give you peace of mind that it is still in the same position, should it get bumped. I found the rubber magnification adjustment to be very pleasing: It's turn is smooth as silk and just the right amount of pressure needed to turn it, IMHO. It also has a rubber coating on it so your fingers can grip it and not slip at all. It has another fiber optic indicator, telling you where you are at in regards to the level of magnification: 1x, 1.3x, 3x, and 4x. Those numbers face you on a small triangular rise. I found it strange though, on the other side of the triangular magnification indicators, also has the numbered magnification levels, only reversed, so the other side of the 4x ring is 1x, the 1x is 4x, etc…..I'm still not sure what the purpose of this is. Maybe somebody more intelligent can clue me in.
Battery installation was easy, and it came with one in a plastic baggy inside the box. I initially installed the battery using my thumbnail, but after playing with the power settings, I noticed that it stopped working. I then proceeded to reinstall the battery and made sure to tighten the cap using a nickel, and I had no problems from then on. Apparently, the finger tight cap was not tight enough to make positive contact with the battery. The brightness settings are 0-10, having an "off" option in between each setting, which is awesome because you dont have to flip through all the setting to get to the one you want each time you turn it on. This scope has 5 different NightVision settings (1-5), and all 5 are basically invisible to the naked eye. All but the blackest night will render the reticle completely black. Settings 6-10 are for daytime. I would say that if you are shooting at night, level 6 would probably be too bright and bleed out past the reticle a bit. Level 10 is "daytime bright", but not necessarily "daytime useable" in all situations. So you can see the red in pretty much every situation, but it may not be bright enough to really be that effective in really bright conditions or bright backgrounds. In those cases, black seems to have more contrast against the target and should be preferred. But the illumination is effective against very busy backgrounds (trees, forest, brush), having the red pop out much better against the busy background than the black reticle. The pictures below will better demonstrate what I mean in this regard. One more thing: There appears to be a little bleeding of red light into the crosshair when it is at it's brightest setting against a fairly dim background, but I actually like it because it gives a little light to the MOA marks on the crosshair…..I dont think this was intentional, however.
The reticle itself is very useable in most situations, IMHO….but I have decent eyesight. For someone who has bad eyesight, this scope might not be for you. Being that it is not a FFP scope, the reticle stays the same size throughout the magnification levels, so it never gets any bigger. Most people will find the center circle and dot easy to see, but the MRAD/MOA marks on the crosshair are very fine, indeed. I will go as far to say that against a heavily forested tree line (very busy background), the MRAD/MOA marks are almost useless. It is very difficult to see them when there is so much going on, contrast wise. Against a lighter colored background, they are very useable, but a dark busy background might prove to be problematic for long distance where you need to marks to calculate windage/elevation. At the very least, it will slow you down.
The glass is pretty good. I did a couple tests, indoors and outdoors. Outdoor was like looking through a crystal clear window….felt like 100% light coming through, especially on 1x (it almost seemed to magnify the light!). On 4x, the glass didnt dim outdoors whatsoever, and the details at about 100 yards were crystal clear as well. Indoors, the 1x was also super clear….even in very dim light. But in 4x mode, you could see ever so slightly a color difference between what my right eye was seeing, and what my left eye was seeing. My left eye (dominant scope eye) saw a veeery slightly darker wall color than my open right eye. But again, this is with very dim lighting at night. Vortex claims that this scope transmits 95% of available light: I believe them. In comparison to other scopes I have used, which includes crappy clones and good brand names alike, this is one of the best I have seen for $1000 and under. I can only imagine what the Razor looks like! All I can say is that the glass is just as good, if not better than what I was hoping for. I bought this sight unseen because no one around me has these in stock.
Eye relief is very good too. It's advertised at 4″ and I believe the specs. It's even more forgiving on 1x, eye box wise. The large eye box make it feel like you have a pretty large field of view, which is advertised at 97.8′ @ 100 yards @ 1x, appears to be correct. One of the things I LOVE about this scope, compared to other 1-4's i've looked through, is that the outside border of the diopter almost looks as if there is none! It get's so blurred that the picture you see through the scope almost appears to be a continuous picture with the rest of the scenery. I dont feel like i'm describing it accurately, and the pictures below dont do it justice, but when you look through it on 1x, it's almost like a reflex sight or Eotech in that the outside border of the window you look through is very thin….it doesnt have that thick "tube/tunnel" feeling. On 4x, it's not as amazing (but still pretty good), but man…1x, it's pretty. For instance, in the first picture, the bottom left of the scope border is blurred. When looking through it in person and if you're in the right angle, the border decreases to half that width around the entire scope picture, and you're left with almost as if you're not looking through anything at all (no scope tube blocking your view).
Okay, enough talking and time for the pics! I will tell you before hand so you don't wonder: None of these are doctored pictures. The only thing I did to them was resize them (and blurred out a few license plates). I took them last night starting at about 8:15 and finished about 8:45, so some may look lighter/darker than others. I am showing the smaller picture, and posting a link right above it to the larger in case you want to see more detail. Please also note that some of the pics may exhibit some blurring of the scope image around the edges….this is either because 1) The diopter was not set properly, or 2) my camera could not focus to the point at which the entire image showed up in focus. On my scope, it shows up sharp and focused all the way around.
Enjoy!