---
Trijicon ACOG Comparison: TA11 vs TA31 vs TA33 vs TA44-C
---
*** UPDATE***  —  Now includes TA44-C 1.5×16
I often see questions on which ACOG to get. Being that I have had access to the 4 most popular models, I figured I'd do a write-up and comparison with pics to help those who are trying to figure out which one to get, or which one will serve their purpose best. The short answer is: It depends! Each, I believe, has a special niche which helps them excel in certain shooting conditions. All exhibit extremely clear, bright and crisp glass….some of the best there is. They are all very rugged and can take a beating.
The four models up for review and consideration are: TA44-C (1.5x), TA33 (3x), TA11 (3.5x) and TA31 (4x) and the TA44-C (1.5x).
Weight
Depending on what kind of rifle you plan to put one of these scopes on, you will probably want to consider the weight of each scope. The TA11 came in at the heaviest and by far the largest/longest of the four at 17.93 oz. 2nd place goes to the TA31, weighing 13.83 oz. The second lightest of the four goes to the TA33, with a small 11.74 oz. And finally, the TA44-C with a measly 7.67 oz! The TA11 and TA33 were measured with the TA60 mount and the TA31 and TA44-C both have American Defense RECON mounts, which are a little bit lighter……but not by much.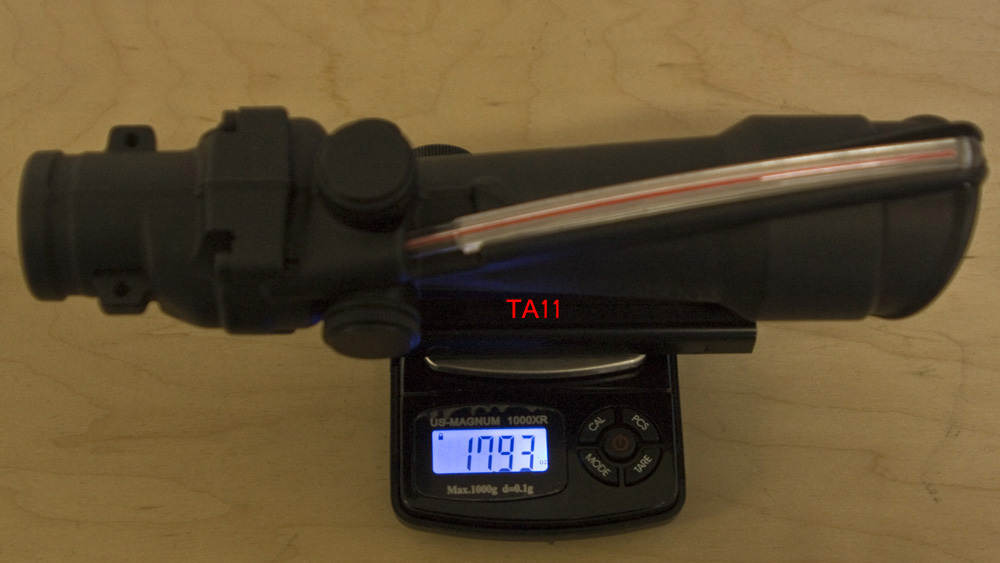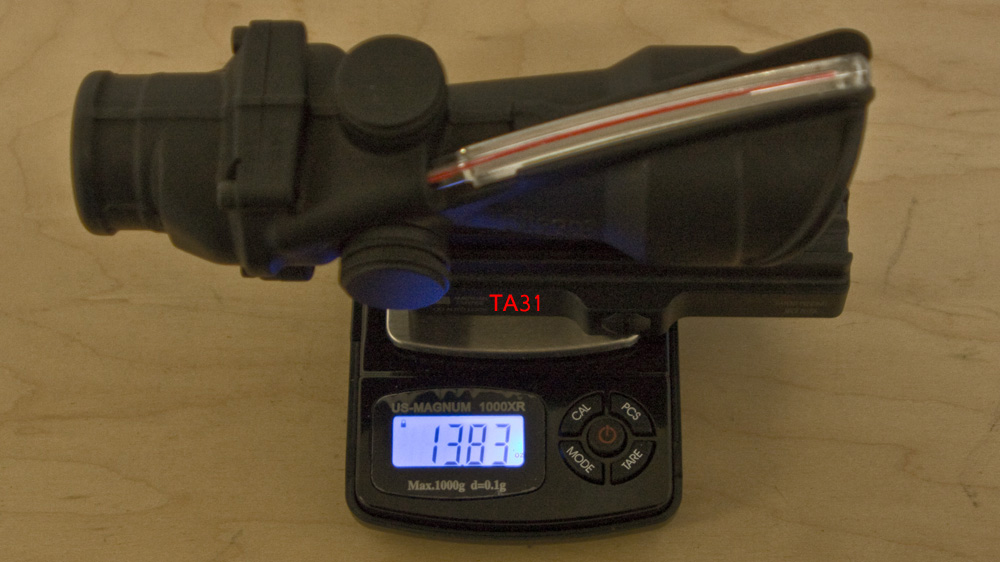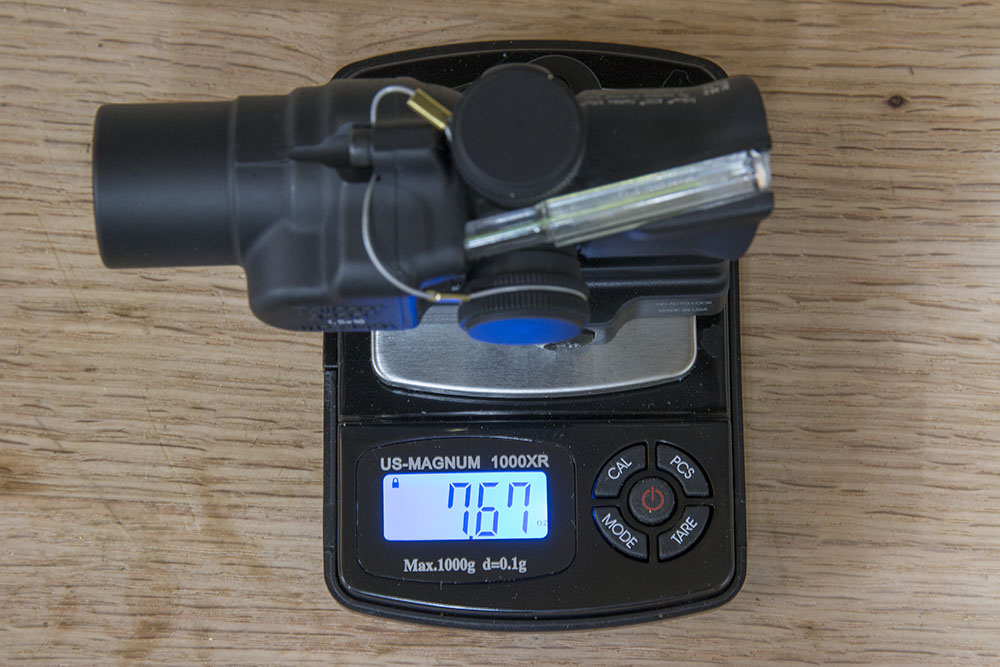 Eye Relief
The next thing to consider with these scopes are how vastly different they are in Eye Reflief. One of the biggest factors in choosing the correct ACOG is going to be whether you require long eye relief or if you don't mind a nose-to-charging handle head position. Eye relief affects a number of other factors as well: Peripheral vision, typically field of view, head position forgiveness, general comfort, etc. The most popular ACOG is the TA31 largely due to it being the military issued ACOG. I am not aware of many other instances where a different model ACOG is issued…..MAYBE for machine gunners, but I believe MG'ers are mostly issued the Elcan M145 optic. Anyway, it is the TA31 that has the shortest eye relief: 1.5″ to be exact. In testing this, I found the practical distance is somewhere between 1.5″-1.75″ MAX. Going back any further cuts your field of view down and darkens the edges of the sight picture dramatically with small changes in distance away from the ocular lens when past the ideal distance. Below is a picture of the ideal head position and field of view for the TA31: It requires a nose-to-charging handle head position….this was the furthest back I could go before losing field of view and exhibiting darkened edges.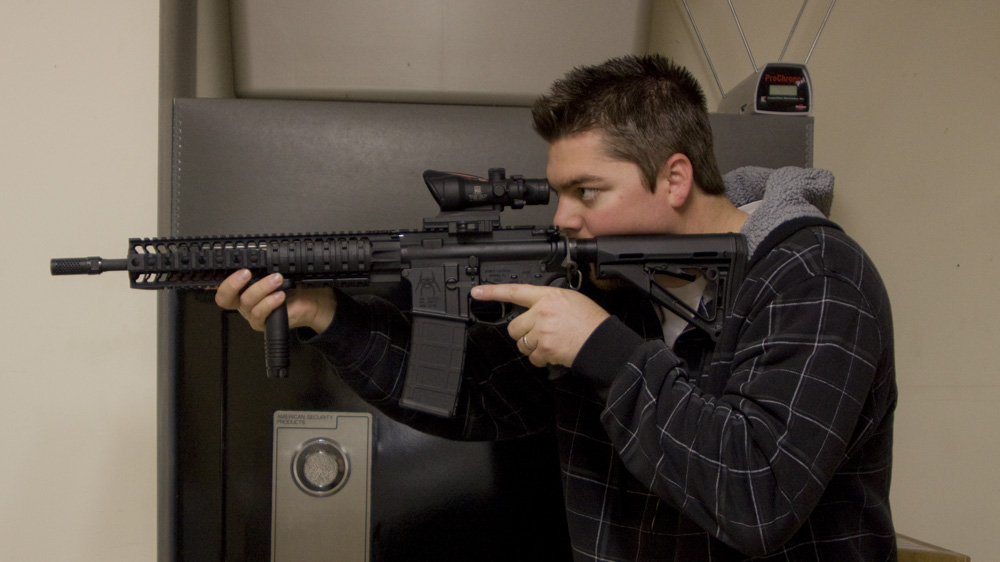 The TA11 has more generous eye relief. The exit pupil is also larger and more forgiving for head positioning. Trijicon claims 2.4″ eye relief and I found that to be exactly correct. To me, it felt much more natural and flat out easier to get on target with the TA11. With the scope a little further away from your face, you get a little better peripheral vision and it is easier to get your head/eye in the correct position to acquire your target, but these benefits come with two drawbacks: Scope weight and field of view. More on FOV later.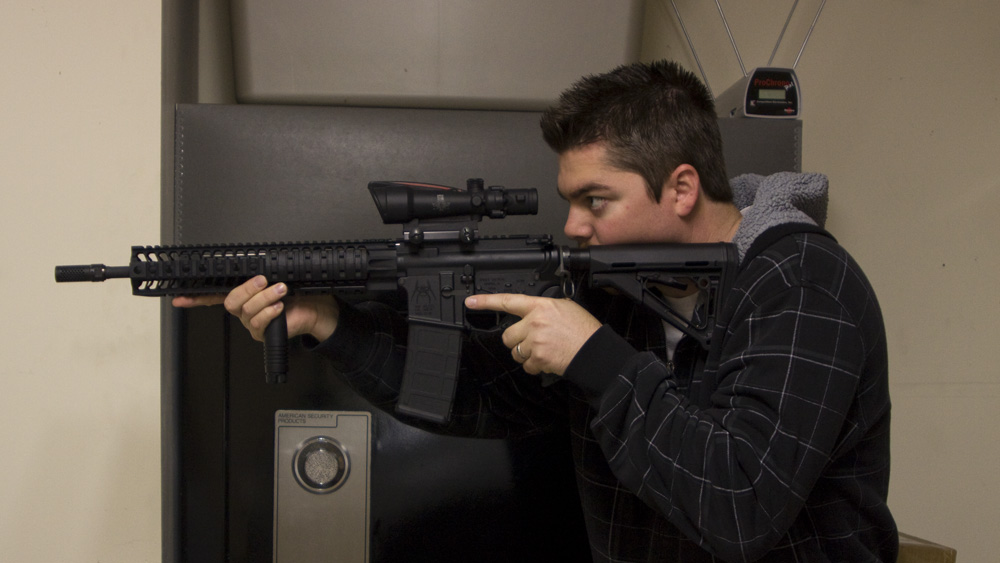 The TA33 has extremely generous eye relief, which has one major advantage: Speed. Trijicon claims a meager 1.9″ eye relief for this model, but I find that laughable. The practical max eye relief is actually about 4″! One of the cool things about this scope is that you can also get much close to the ocular lens (front glass eye piece) without having any negative effects on the sight picture….it will only give you a bigger black border around the sight picture. This, of course, gives you no benefit as the closer the scope is to your face, the less peripheral vision you have to see your surroundings. But the flexibility of mounting it further forward or back closer towards your face without any detrimental effects to your sight picture is there, unlike the TA31.
The TA44-C feels much like the TA33 in the eye relief department. If fact, it has a little bit more eye relief than the TA33, coming in at 4-5/8″. This lends to making this optic a very fast heads-up type of scope. In fact, it feels much closer to a red dot sight than it does a scope! But that's due to the magnification…..more on that later. Just like the TA33, you can come in closer to the diopter lens and not have any detrimental effects to the sight picture. You're only sacrificing peripheral vision.
Overall, more eye relief gives you more flexible mounting options and lends to an overall more comfortable shooting experience: It just generally feels better. However, the price of longer eye relief is shorter Field of View.
Field of View
I love a large field of view. It makes it feel like there is more magnification than is really there. You get to see more through the scope, you can ID your targets with better precision, and it's just flat out pretty. Unfortunately, the trade-off for a larger field of view is **typically** shorter eye relief. At least in the ACOG series. This especially plays a big factor in the TA31. Field of View is measured in either degrees (which most people don't understand), or in feet. In this case, I will use feet for ease of understanding. For example, at 100 yards the TA33 will show 19.3 ft (3.7 deg) across from the left side of the sight picture to the right side of the sight picture. So if at 100 yards you pound in two stakes into the ground 19.3 ft across, you can look through the scope and the stakes will be on the far left edge and the far right edge of the sight picture, with the reticle in the exact center between them. Everything outside of those stakes will not be visible in the scope's sight picture. But everything in-between the stakes will be visible. Make sense? Basically, a wider field of view lets you see more sight picture.
Moving on, let's compare the four ACOGs: As stated already, the TA33 is 19.3 ft @ 3x. The TA11 is 28.9 ft @ 3.5x, the TA31 is 36.8 ft @ 4x and the TA44-C is 39ft @ 1.5x. It might be weird to think about, but typically, the more magnification you have, the less you will get in field of view: They have an inverse relationship. However, when you mix in the eye relief specs, you can completely flip the equation.
For instance, you would think that going down in magnification from the 4x TA31 to the 3x TA33, you would get more field of view (33%) ….indeed it typically would, if the other specs stayed the same. But because Trijicon increased the Eye Relief of the TA33 266% over the TA31, the net result is that the TA31 has roughly 88% (33% of 266%) more FOV!
Another example: The TA44-C gives the widest field of view @ 39ft per the specs, but is only has 1.5x magnification, so it's a bit of a ruse….since eye relief is very similar between the TA33 and the TA44-C, it's an easy comparison between the two: When you double the magnification  from 1.5x to 3x), the field of view goes from 39ft in the TA44-C to 19.5ft  in the TA33 (assuming nothing else changes), and that's exactly what we see in the difference between the two in the specs. So in this sense, the TA44-C is nearly the same thing as a TA33, only with half the magnification and a smaller, lighter footprint. Because of this, the both have the same "feel" when looking through the scopes.
The TA11 is a fair compromise between the extremes, coming in the middle of the pack with ALL the specs: Eye Relief, FOV and Magnification. If you don't want either of the extremes, this is a good choice.
The TA31 is the other opposite end of the spectrum with short eye relief but massive Field of View. It's really pretty to look through, but it's also not the fastest of the bunch. However, I believe this can be overcome with practice.
At the end of the day, all of the specs play into the final result. You can't discount one or another. You may not need to concern yourself with the specs….you can simply go off of how it feels for you, which will do more than any spec will. But at least knowing this information will help narrow down the options if your local stores don't carry some of the models. I did the best I could trying to explaining how these specs affect the net result, but it's really difficult to convey how numbers truly affect what you actually see and feel.
To better demonstrate what Field of View does, look at this animated GIF picture I put together: (TA44-C not included)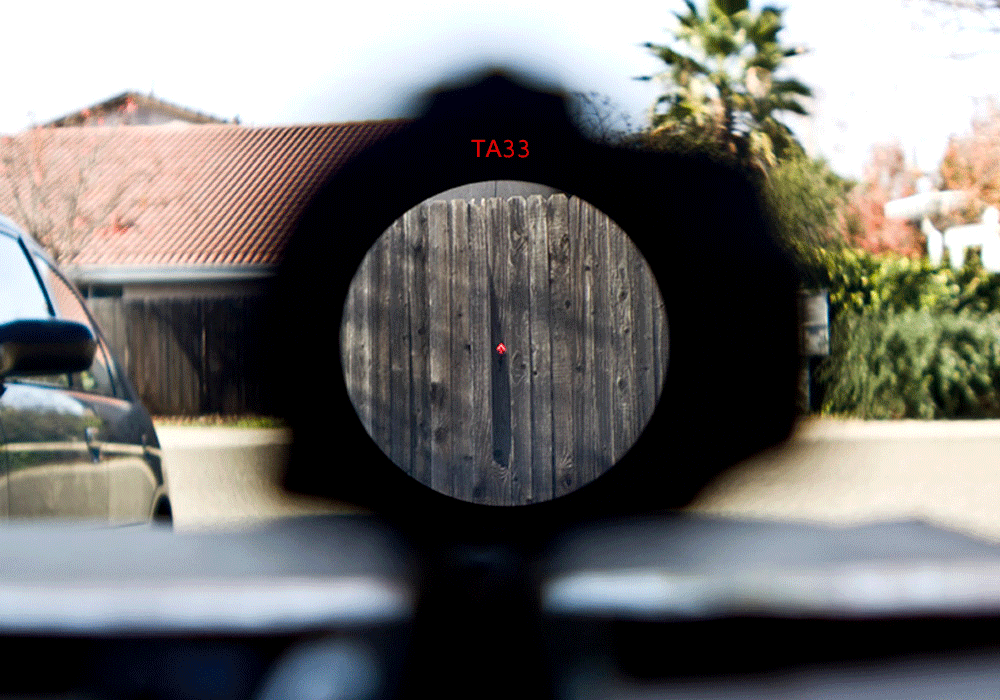 These pics were all taken at the same distance, which is about 25-30 yards from the fence. As you can see, looking through the TA33 is like looking through a small metal pipe compared to the other two. But also notice the peripheral vision outside of the scope: See how the TA31 nearly cuts everything on the side off, while the TA33 shows a lot more on the sides? That is one drawback of the TA31 and can play a critical role in CQB. One note: Please forgive the bad picture taking of the TA31…it is VERY difficult to get a non-blurry picture due to the short eye relief and smaller exit pupil…in person, it is very crisp edge to edge. Below is another animated GIF that shows the scope views at a further distance of an estimated 160-170 yards or so to the fence.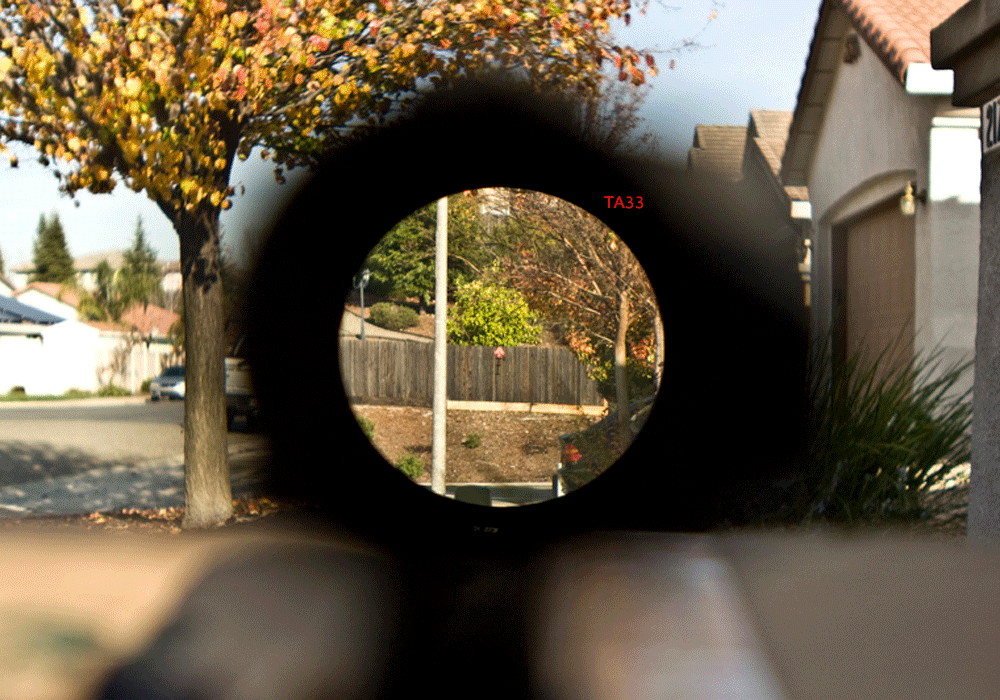 I'll make a note here of the TA44-C because it is not included in the animated GIF's. Due to the similar eye relief, the TA44-C feels exactly like a TA33, only with half the magnification and in a smaller form factor. However, looking at the specs alone wouldn't tell you this. What's crazy to me is that when you look back and forth between the TA31 (4x) and the TA44-C (1.5x), you see just about the same amount of picture in both scopes! The TA44-C sees an extra 1.5ft, but has nearly 1/3rd of the magnification. Quite a difference between these two options. Here's a through sight picture of the TA44-C just to give you an idea. The picture below shows a house that is 340 yards away and gives an accurate "feel" for what it is like to look through the scope while holding the rifle: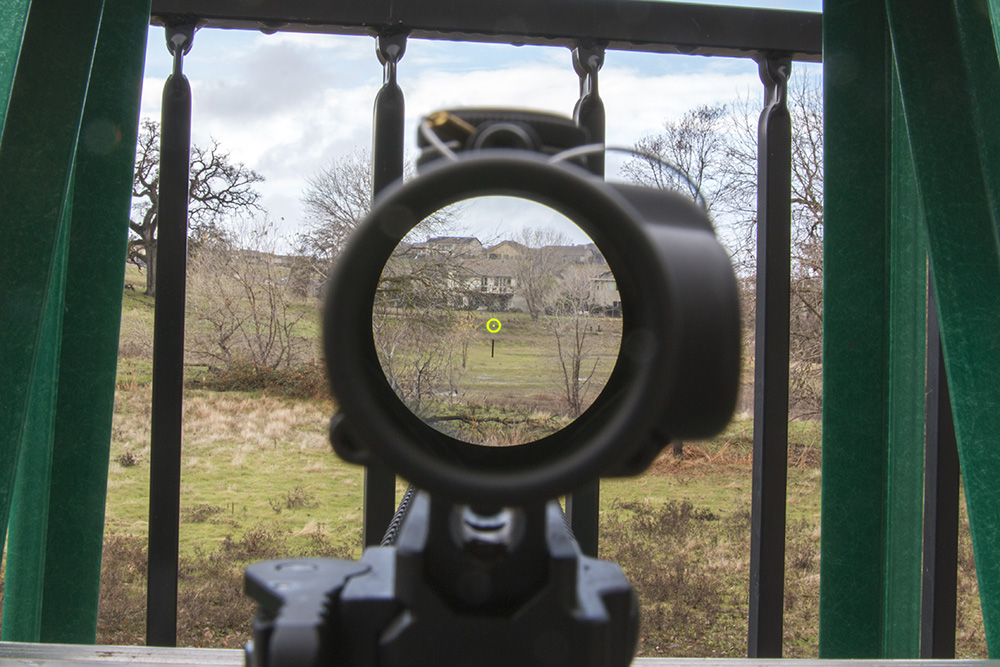 All in all, field of view definitely has its' advantages, and some of those may be really important to you. But the cons to having a large field of view may be more important not to have, so you have to decide what is more important to you. More on my thoughts on this in my conclusion.
Exit Pupil
Exit Pupil is one of those specs that doesn't get talked about much, yet it can play a critical factor in speed and accuracy. The exit pupil is basically the size of the pipe that the light travels through. It is measured at the ocular lens and is measured in Millimeters. Below is a picture of the exit pupils of the three scopes: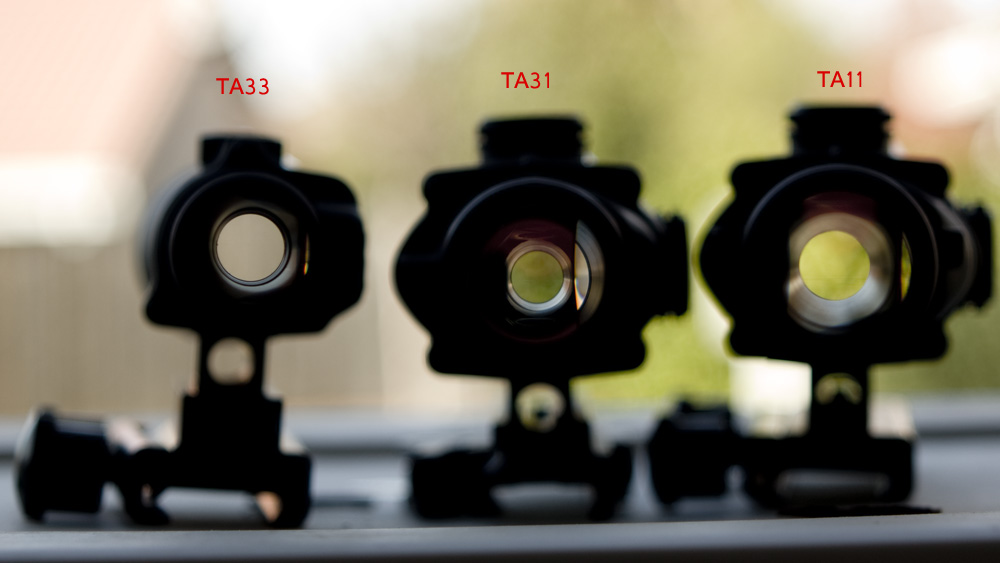 The TA44-C comes in with the largest exit pupils, at 10.66mm, but is closely followed by the TA11 and the TA33, which measure in at 10mm. The TA31 measures comes in last at 8mm. In all honesty though, 8mm is still very generous, but it does seem to make a difference in the speed of acquiring proper head/eye alignment with the scope. Another benefit of a larger exit pupil is that it can alleviate eyestrain, but I haven't found that this happens in any of the scopes. Overall, I wouldn't put too much emphasis on this attribute, but it can be a contributing factor…..namely eyebox forgiveness.
Objective Lenses
There's not too much I have to say about this one that is not already obvious. To me, it doesn't seem to make a difference. Low light performance is often based on the objective size, but that usually only matters when you have a higher magnification levels or low quality glass. In this case, all four have amazingly clear glass, large exit pupils, and relatively low magnification…..all which contribute to them being good low light scopes. But I took a picture of them anyway: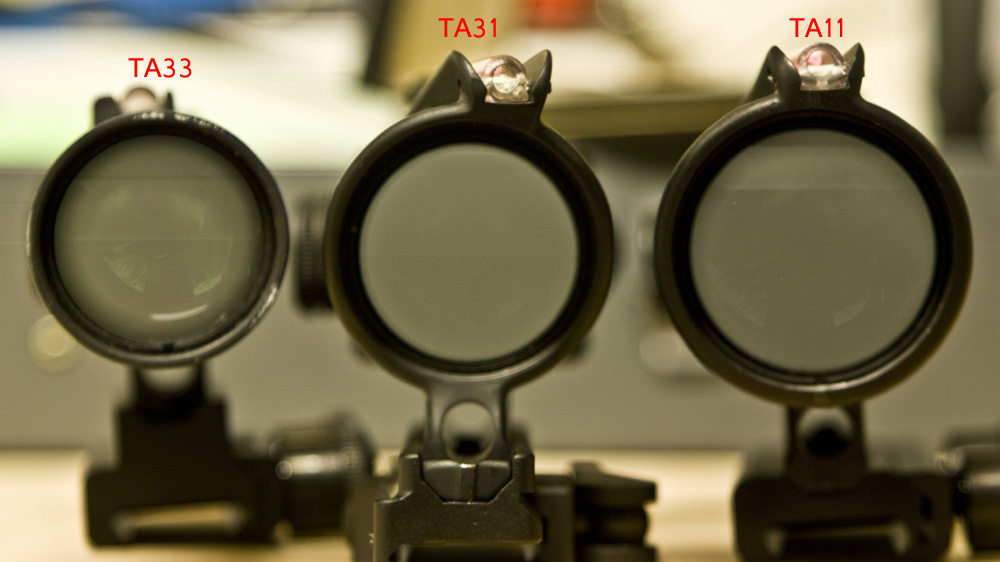 The TA33 has a 30mm objective, the TA31 a 32mm and the TA11 a 35mm objective. Not pictured is the TA44-C, which comes in at the smallest level: 16mm. But no need to be concerned: 1.5x magnification is not nearly enough to cause low light issues. At 10.66mm, the average human eye has an additional 3mm+ of "wiggle room" when your eye's pupil is the LARGEST. This basically means that at dusk, when your pupil is about 7mm wide, the scopes exit pupil would have to be smaller than 7mm before perceiving any light degradation (scope dimming)….and all ACOG's exhibit larger exit pupils that 7mm, so they're all good in this regard. Anyway, they all exhibit very bright glass and one would be hard pressed to notice a difference in light throughput between any of them based on the objective size alone. But since there is a physical difference between the scopes' objectives, I put it in this comparison thread.
Glass Clarity and Resolution
Unfortunately, this section is something that is often in the eye of the beholder. There are tests that you can do to check for light transmission and so forth, but I do not have the tools for such an undertaking. I let my eyes do the talking. I have looked through a good number of scopes over the years and know what my eyes like. Trijicon products are definitely one of them. I should put out a warning first: If you are not used to good glass and are thinking about upgrading to an ACOG or other high quality scope, be prepared to not be satisfied with your medium quality or lower scopes from here on out! Having good glass really spoils you, and it doesn't take long to become a scope snob. You'll find yourself not liking to use your older, lower quality scopes. The difference between an ACOG and a budget clone or a "hold me over for a while" scope is, in my humble opinion, night and day. To me, it literally looks like someone put on a darkening filter or a tinted lens over the objective when looking through the cheap stuff. I guess I am a glass snob now….no, I am DEFINITELY a glass snob now. And it's hit my pocketbook bad.
Nevertheless, the old saying, "you get what you pay for", certainly applies here. ACOG glass is pretty much second to none. Some have argued that the Elcan Spectre Dr is better: I've only looked through one once and it didn't blow me away, being that I was already used to an ACOG. But take that as a grain of salt because I didn't do a side by side comparison or anything. All I know is that for the ACOGs I've seen, they all produce crisp sight pictures, super bright glass and high resolution so you can accurately ID and aim at far out targets. Then again, these scopes aren't meant to be used on a sniper rifle or for any super high precision shooting. They are pretty much in the "Body MOA" niche of the military world, so it does very well as a standard issue optic.
I have tried to take high resolution photos looking through the scopes, but they just never do it justice. I have found very few on the web that really blow me away. For whatever reason, it's just hard to take a picture that do these scopes true justice. Therefore, I will not post any pics attempting to show you the resolution or clarity. The ones you have seen already are pretty much the best I could get with my equipment. I would highly suggest that you see these scopes in person before you buy. Look through them, mount them, and get a good feel for how they would work on your rifle. That's really the best way to tell which one will work for you best……not my words.
Reticle Color Choice
The reticle color choices are completely based on opinion. You have the choice of Red, Amber or Green. They all work well, but people generally have a preference for one over another. Some of that has to do with their local environment, having one stand out more over another. For me, I have recently been converted. I was a die-hard Red fan. I thought that because there wasn't much natural bright red in nature that it would be a better choice. But now that I've recently tested out the Green, I find that it stands out very well even against bright green foliage (which was my initial concern), and does even better at night! Take a look at this picture: I took these side by side in a pitch black room and Photoshopped them together. Other than cropping and enlarging the pictures, I did not edit a single color, contrast or brightness setting. Both pics were taken with the same exact camera settings.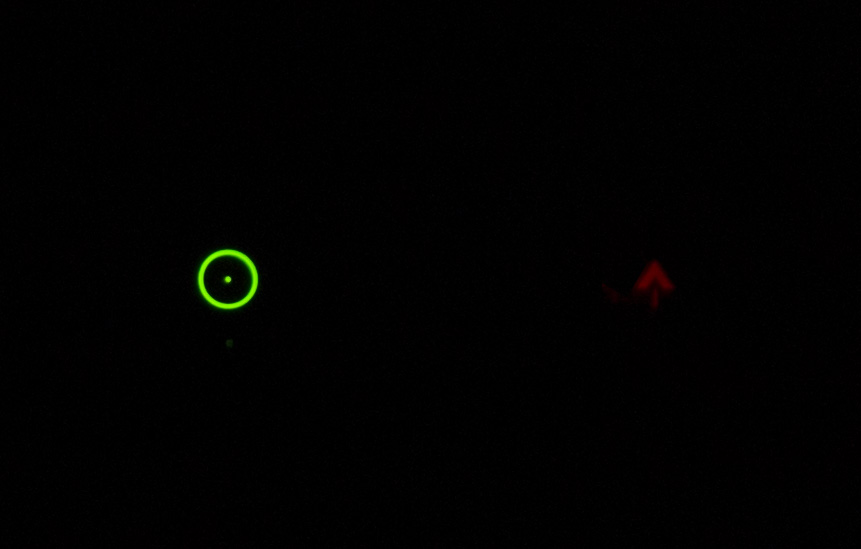 Now to be fair, I am comparing a brand new TA44-C to a TA31 made in 2010, so the tritium has degraded a bit. But even still….to my eyes, the red just doesn't show up nearly as well at night. But look at how bright that Green is! When I brought the TA11 brand new, I compared it next to the TA31 and it really wasn't any different. And they were manufactured 4 years apart. I now find the red to be practically unusable at night in extreme low light, whereas the green actually shows up very well. I have also used the amber color in the past (an old 1.5×24 TA45)….it was so dim that I decided to contact Trijicon about it and see what they thought. They evidently found that there was a problem with it and replaced the entire internal assembly and recharged the tritium….for free! Great customer service in my experience. For reference, you can see my thread about it here: (http://www.calguns.net/calgunforum/showthread.php?t=612855). Anyway, once I got it back it was the way it was supposed to be. But even then, I didn't find that the reticle stood out as much as the green does.
Conclusion
Over all, all four of these scopes are very excellent. High quality construction, built like tanks, great clarity and definition, bright, automatically adjusts to ambient light conditions, etc. If there was one gripe I had about all ACOG products, it would be that the reticle doesn't always work as intended in ALL lighting conditions. I love that it automatically adjusts the brightness to ambient lighting conditions, but sometimes you'll find yourself in the shade looking out into a brightly lit area…..it's conditions like this that cause a lack-luster reticle color: It can fade into the background and not stand out well. But that's the worst of it. It's hardly something that I concern myself with, and in my opinion it is worth the trade-off. The reticles are all etched into the glass, so they don't completely disappear…..they're just not as bright. And you don't have to worry about batteries!
But deciding which one will work best for you will be determined by a number of factors: I won't attempt to sell you one way or another because I don't know your situation. But below I'll tell you what I ended up going with, and will give you a quick summary and my opinion as a general guideline. I'll let you go from there.
TA33
Pros: Fast, heads-up shooting with a light weight rifle, and also allows for fast target acquisition. It's very small field of view helps take out distraction of the surrounding areas and lets you focus on what's most important: Your target. The long eye relief and large exit pupil make for very versatile head positions, scope rail mounting positions, makes awkward shooting positions more comfortable, and gives the ability for great peripheral vision. Really is amazing to me how big the exit pupil is when the ocular lens is so much smaller than its counterparts. The TA11 has the same 10mm exit pupil, yet the ocular lens appears to have a 35% larger diameter. I also feel the lower magnification and small field of view also help with speed in CQB type shooting.
Cons: Small field of view hinders target ID'ing somewhat and decreases situational awareness through the scope. It also gives the "tunnel view" feeling, like you want to see more around the target but you cant. The small field of view also makes it feel like there is less magnification. The super long eye relief also makes it so that mounting it closer to your head **can be** problematic for proper sight picture: In my case, I have my rifle's stock pinned in the first notch position for featureless configuration (ridiculous California rules) for proper head position with a TA31….because of the long eye relief with the TA33, I have to mount it further forward than I would like, which changes the weight/balance of the rifle. This is obviously a problem that is unique to my situation, so most of you guys outside of the PRK (People's Republic of Kalifornia) aren't going to have this issue.
TA44-C
Pros: Fast, fast, and FAST! TA44 has an even faster heads-up shooting ability over the TA33 (for me) due to the lower magnification. I've always found the Bindon Aiming Concept difficult to do; something about having different magnification levels for each eye slows me down. Maybe I haven't practiced enough. But having the lower magnification really helped me speed up target acquisition. As for the magnification, I already mentioned that I feel the TA44-C is closer to a red dot than a scope….If you're looking for a red dot type of sight but have astigmatism and have a problem seeing the dot clearly, this is THE scope to have if you're looking to keep the weight down. Speaking of weight, this thing is not much more than an Aimpoint T1 in weight! Super light and a great option for those looking to keep their lightweight rifles "light" while having an effective and reliable optic.
Cons: What's not to love? Well, if you're dead set on having more magnification, then this one probably isn't for you. It's not going to help you ID target much better than your eyes will. Also, while having less magnification certainly helps have less of that "tunnel vision" feel, it still has a similar feel that leaves you wanting to see just a little bit more. If it was me designing this optic, I would opt for a little bit less eye relief for more FOV…..I'd dumb it down to around 3.5″ eye relief and something closer to the 50-60ft FOV.
TA31
Pros: Amazing field of view that lets you see the world. It's just pretty to look through and impressive. For range purposes, this is my favorite scope to use because fast head position and eye relief are not critical factors…..I'd rather see the beautiful sight picture. Clarity is amazing as well. Large field of view makes it feel like it is more than 4x. I'd say that this scope is better for situations where distance is an issue. Slower shot making, ensuring hits are made, deliberate shooting and paying high attention to the details in the sight picture…..that's what this scope does well.
Cons: Many can't stand the short eye relief. I can understand that sentiment, but it doesn't bother me too much. However, I can see where it could be problematic in awkward shooting positions. It also doesn't make the scope particularly fast at heads up shooting. With practice, you can get used to it, but it certainly wouldn't be my first choice in a 3-gun competition. Smaller exit pupil also means head position is more critical. In practice, it's best if you get used to a consistent cheek weld so it is repeatable over and over. If you don't do this, your point of aim can be slightly off. And if your heads gets in a REALLY bad position, the reticle will actually blur at best, or it will not be visible at all (because it is outside the exit pupil's range). Going into a pitch black room with only the Tritium illumination is weird: Without a consistent cheek weld, you will find it hard to get the reticle in a position where it is not blurry with the TA31.
TA11
Pros: What can I say, this scope really seems to be the bees knees. Other than size, it is a perfect blend of TA33 and TA31. Middle of the road eye relief and field of view, it allows for fast shooting without getting lost on the sight picture, but also still allows you to ID targets and get on target fast. The eye relief is still good enough to have some mounting flexibility, and the exit pupil is a generous 10mm, making perfect cheek weld/head position not nearly as critical for proper sight picture. Picture is bright and clear, with high resolution detail. It also seems that the longer Fiber Optic line makes for a brighter reticle, like it can gather more light than the shorter ones. I don't have anything scientific to prove that, just an observation. Cons: I don't have too much in the negative here, other than weight and size. Feels like a mighty big scope for a tiny, lightweight AR15 like I have. I actually don't use it on my AR15….my model is the TA11E, which has a .308 BDC Chevron reticle, and it is perfectly suited on my .308 AR battle rifle. If anything, my only complaint would be the relatively low magnification for a .308, but I knew what I was getting before I bought it, and I absolutely love it so far.
So is there a clear winner? I can't definitively say so. Ultimately, it depends on your goals or expected usage. If I absolutely HAD to choose, I would choose the TA11 or TA44-C over the others. There, I said it. And I say it only because of their versatility between rifles, their "Middle of the Road"/"Pretty good at everything" kind of specs. Am I disappointed in the others? Not in the slightest. The TA33 and TA31 are better for other specific things, but IMO, are more specialized to those niches and have bigger pitfalls when it comes to the non-specialized uses. In other words, FOR ME, the specializations don't outweigh the pitfalls. The TA11 works best for me, and being that it's on a .308, its added weight isn't much of a concern for me because the rifle is already pretty heavy. I need to say, however, that all of these scopes are very much interchangeable in roles. In other words, you could use a TA33 in place of a TA31 and use it for the same type of shooting, or a TA11 for a TA33….they can all be used for any of the roles that you choose, whether it be CQB, midrange distance shooting, 3-gun, pretty much anything other than precision or long range pinpoint accuracy. But I do believe that each one fills a specific role better than another, with the TA11 being closer to a neutral role than the other three.
I really don't have anything more to add than what I've already said. There are some other things, reticle pattern, and looks/design that I could get into, but that really comes down to personal preference and I have no business telling you which one will work/look better for you anyway. I am personally a fan of the Green reticles and like the look of the TA31 or TA44-C, but as always, YMMV.
So which one did I choose? Initially I chose the TA11, but now having my goals changed with what my intended use is for my lightweight carbine, I went with the TA44-C. I love the green reticle, I love its small size and how light it is, and how fast it is at acquiring the target, and I think it looks amazing. This scope is effective out to 300-400 yards and is most effective inside of 200 yards in my opinion. But anything beyond that and I would opt for a 308 and a higher powered scope. Here's the final outcome: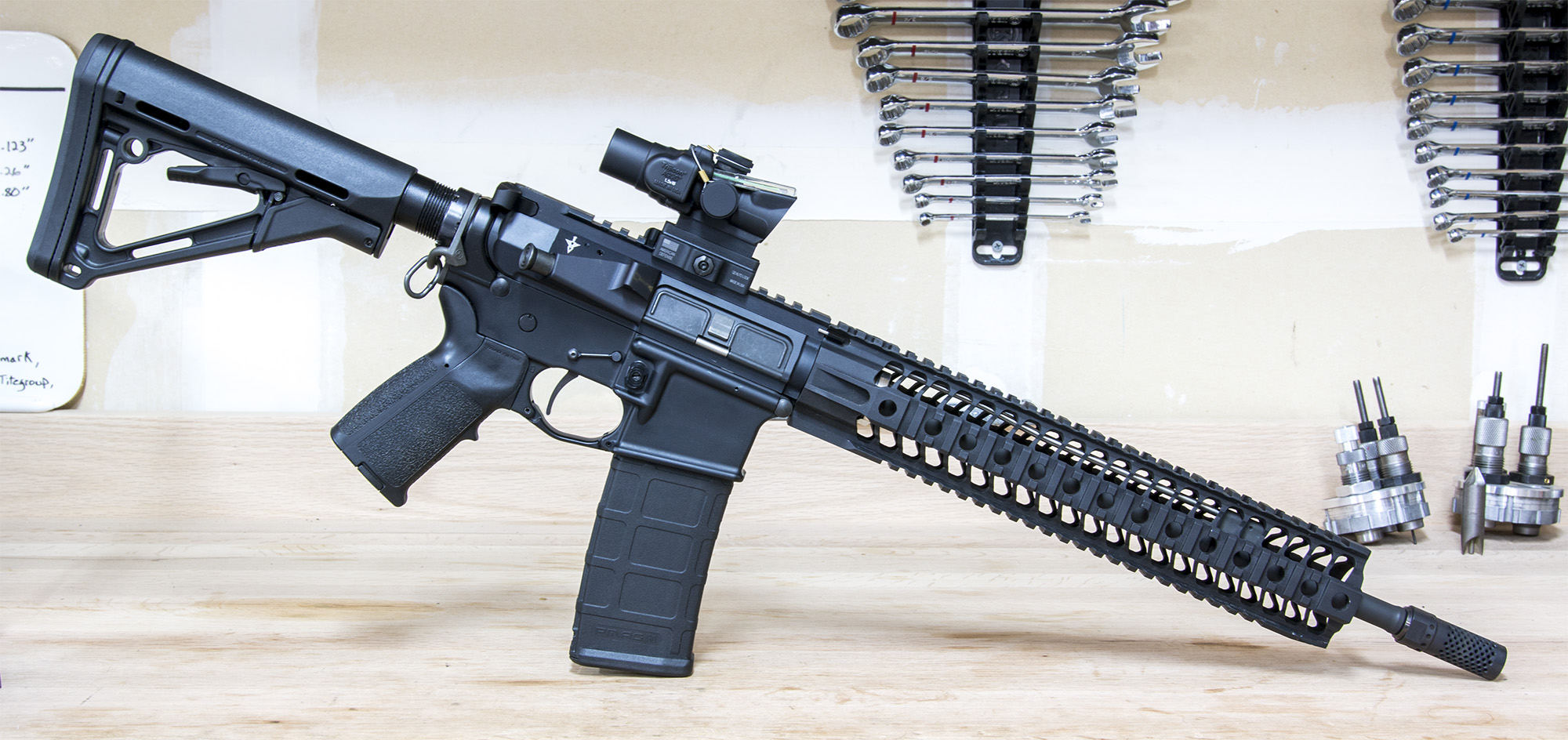 This one shows a picture of just a zoomed view of the sight picture. In real life, it is all 100% clear, but this picture for some reason shows some blurry spots and some clear spots…..it was raining a little when I took this picture so there might have been a few rain drops on my lens. This tree is 180 yards away: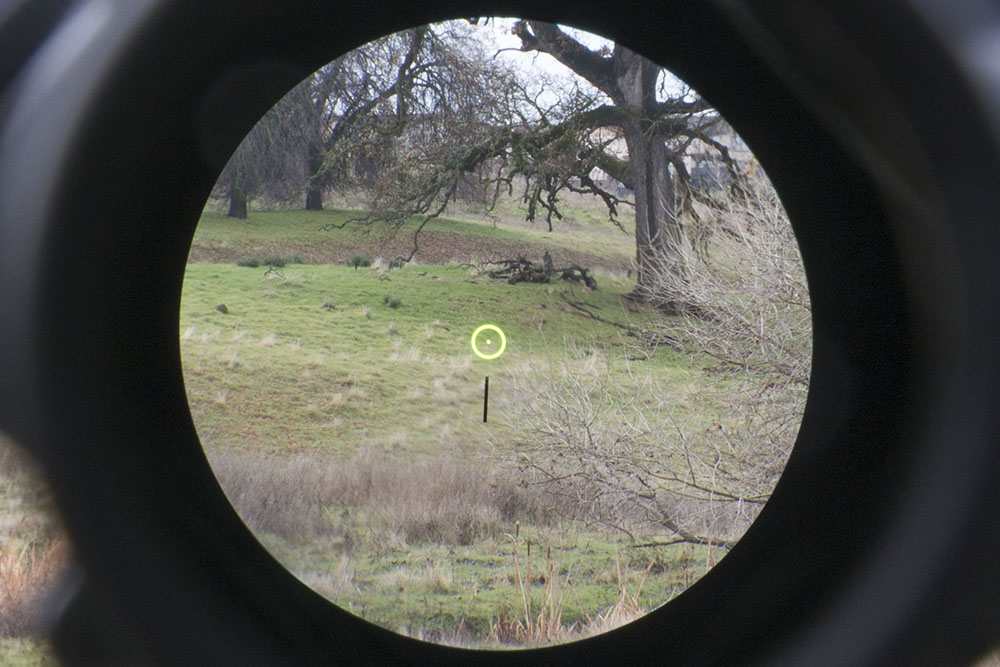 Anyway, I hope this review/comparison thread is helpful for those in the market for an ACOG but confused on which one to get.