---
Vortex Razor HD 4.5-27x56mm Gen II T&E Report
---
This review is solely the work of Vu Pham of Norcal Practical Precision Rifle Club. Kudos to him for putting this excellent review together!
Vortex Razor HD Gen II 4.5-27x56mm w/EBR-2C Reticle (MRAD) Test and Evaluation
By Vu Pham of NorCal Practical Precision Rifle Club
Initial duration of T&E: 45 days
Total rounds fired: 350
Rifles used for T&E:
• 308win built by Newman Precision
During this T&E I completed the following:
 Little bit of ruggedness testing
 50M elevation and windage track test (17mils up/5mils left and right)
 Track testing out to 1000yards. Ensured numbers lined up with AB Kestrel.
 Repeatability test shot @ 200yards
 3 NCPPRC Long Range Practice Sessions (200yds to 1K)
 1 NCPPRC Precision Steel Match
 1 NCPPRC Long Range Match
 About 8 trips to the 100-300yrd bays to confirm zero and ensure no shifts have occurred.
 A few trips to our 550yard steel range to see if my hold overs match with the dialed dope.
Opening the box:
• Like its predecessor, the Vortex Razor HD Gen II 4.5-27x came nicely packaged from the factory. The box is lined with a high density foam that will protect the optic during any transport or shipping.
• Package included the following:
1. Vortex Razor HD Gen II 4.5-27x56mm
2. Sunshade
3. Custom tool to loosen windage and elevation knobs, and adjust your zero with.
4. Battery for illumination.
5. Instruction booklet.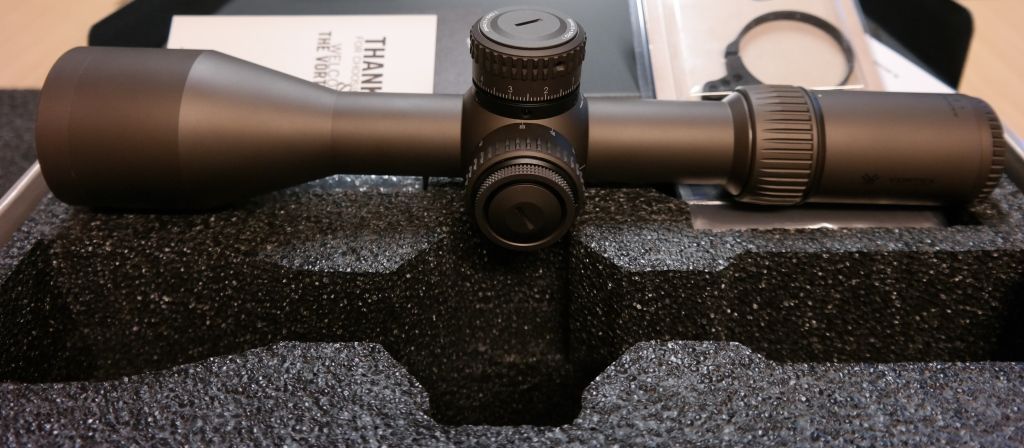 Physical Appearance of the Optic:
• The Razor HD Gen II 4-27x sports the same dark earth anodizing like the rest of the HD line of optics.
• New 56mm objective gives the scope a very robust look and feel.
• Elevation, windage, and parallax knob are similar in size and much lower profile than on the Gen 1 Razor HD 5-20x.
• When handling this optic for the first time you will notice the Razor HD Gen II is not a light weight. Specs call for 48.5oz.

New key features of the Vortex Razor HD Gen II vs. the Razor HD Gen I:
• 27x vs. 20x max magnification
• 56mm vs. 50mm objective
• 34mm vs 35mm main tube
• Locking elevation and windage turrets w/zero stop on the elevation turret
• Lower profile turrets
• Illumination control has been integrated into the parallax turret
• EBR-2C or EBR-1C in MRAD and EBR-2C in MOA reticles.
• 2nd and 3rd revolution indicator
• Custom tool to loosen windage and elevation knobs, and adjust your zero.
• Awesome glass quality
Weight:
After the 2014 SHOT Show there was a lot of chatter about how heavy this optic is and some were saying it was "too heavy".
Mike Cecil @ CS Tactical was kind enough to loan me a few optics for a weight and size comparison. All optics were weighed with Badger Ordnance steel rings factored in and sunshade attached if available.
Kahles 624i 6-24x56mm 2lbs 10oz without a sunshade
Burris XTR II 5-25x50mm 2lbs 12oz with sunshade
Vortex Optics Gen I Razor HD 5-20x50mm 3lbs 1oz with sunshade + bubble
Bushnell 4-30x XRS 3lbs 3oz with sunshade
US Optics 5-25x56mm 3lbs 5oz without sunshade
S&B 5-25×56 PM II 3lbs 5oz with sunshade.
Vortex Optics Razor HD Gen II 4.5-27x56mm 3lbs 12oz with sunshade + switch

Left to right: Kahles 624i, Burris XTR, Vortex Razor Gen II, Bushnell XRS, and Vortex Razor Gen I
Magnification:
This optic boasts a 4.5 – 27x magnification range. This magnification power coupled with the thinner reticle makes for a great combination.
• I was able to shoot my track test at 50meters on high magnification without any issues.
• Yardage markings on the parallax turret correlate to the actual yardage you are focused.
• Specs indicate this optic will focus down to 32yards.
(Parallax, Illumination, and 2nd Revolution Indicator)
• Parallax turret is the same size as the elevation and windage which I personally really like. The Razor 5-20x Gen I featured a small turret and was not as comfortable to work with.
• Illumination controls have been integrated with the parallax knob. Just pull out on the outer most knurled ring to gain access to illumination controls.
• The entire reticle is illuminated and stays sharp even on the higher settings.
• A user also doesn't have to go from the lowest setting to high as there is an "off" setting in between each power setting indicated by a dot.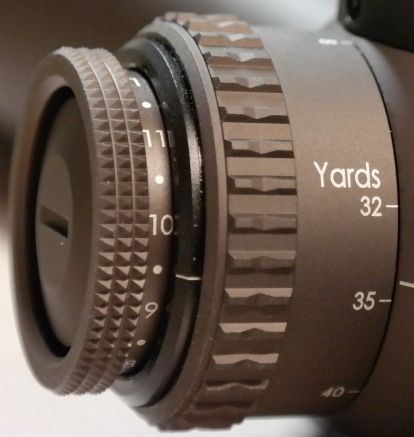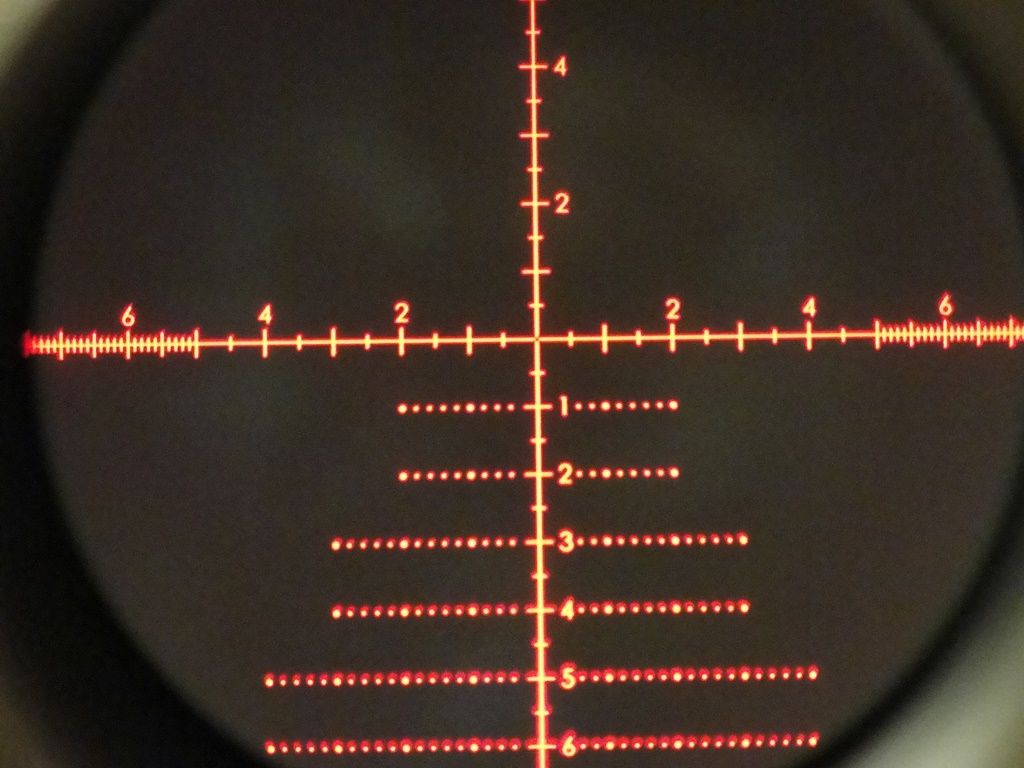 A 2nd and 3rd revolution indicator pops out the left hand side of the elevation turret once the user goes pass 10mils and 20mils up.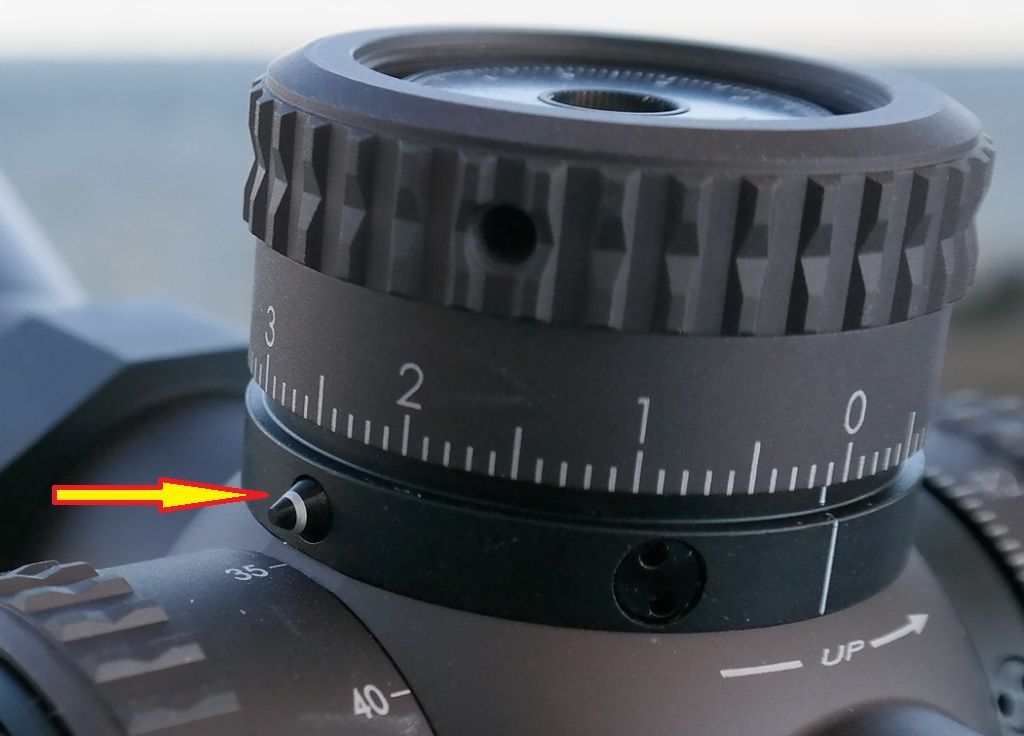 Controls (Windage and Elevation Turrets)
• Low profile and large diameter elevation, windage, and parallax knobs are very comfortable to work with. The similar sized knobs on all three sides adds to the aesthetics of the optic.
• Knobs are10mils per turn on elevation and 5mils left and right markings on windage
• The 0.1mrad clicks are positive and tactile. The larger diameter turrets gives you good spacing between each click and allows the user to make quick adjustments without over shooting the desired mark.
• Both the elevation and windage turrets have locking capabilities to ensure you do not bump your knobs on accident during transport or movement.
• Locking and unlocking of the turret is very positive and not mushy. You get a snap/click when locking and unlocking the turrets.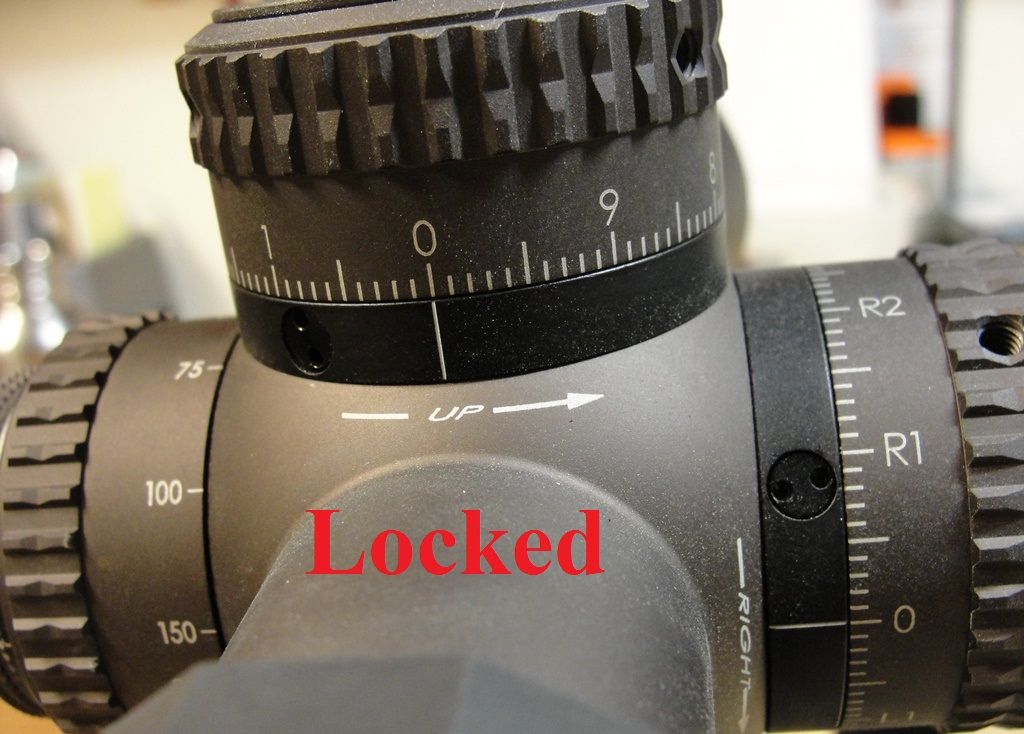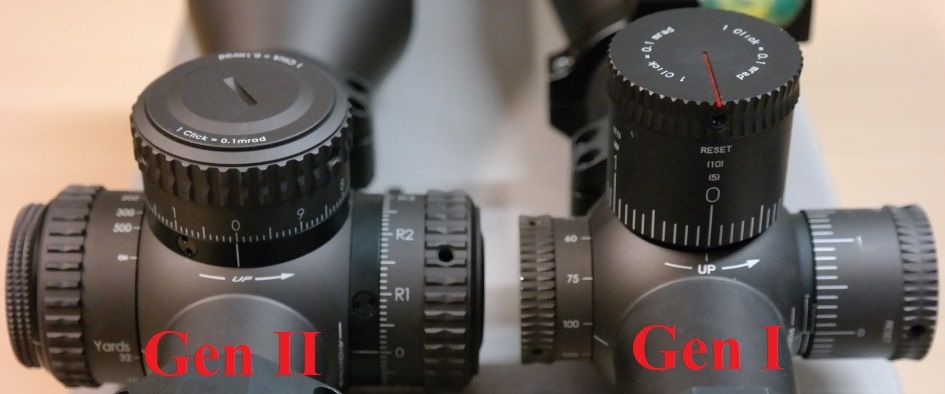 Vortex also includes this cool little tool to run your optic with.
EBR-2C MRAD reticle:
The EBR-2C is basically the EBR-2B reticle from the Gen I Razor thinned down. Instead of making changes for the sake of making changes, Vortex gave a lot of end users what they have been wanting- a thinner version of their reticles!
The old EBR-2B had 0.05mil main beams where the new EBR-2C is only 0.03mil thick. I have been running a GenII XR reticle in my S&B for years and have found it to be a little too thin at times with its 0.025 thick main beams. This is especially the case on darker colored targets or targets located in shadows as the reticle tends to wash out.
My personal preference are reticles in the 0.030 to 0.035 thickness range. Anything above and below this is either too thin or too thick for my taste. Again, this all comes down to personal preference and how the optic will be used. I think most competition/match shooters will find the new reticle thickness very appealing.
I was able to clearly see the .5mil markings, 1mil markings, and numbers down to 12x.
The only thing I am not sold on is the 0.06 open center due to personal preference. I will say, however, the more trigger time I get behind the EBR-2C, the more I like it. The other four Gen I Razors I have sport the EBR-3 reticle without the open center.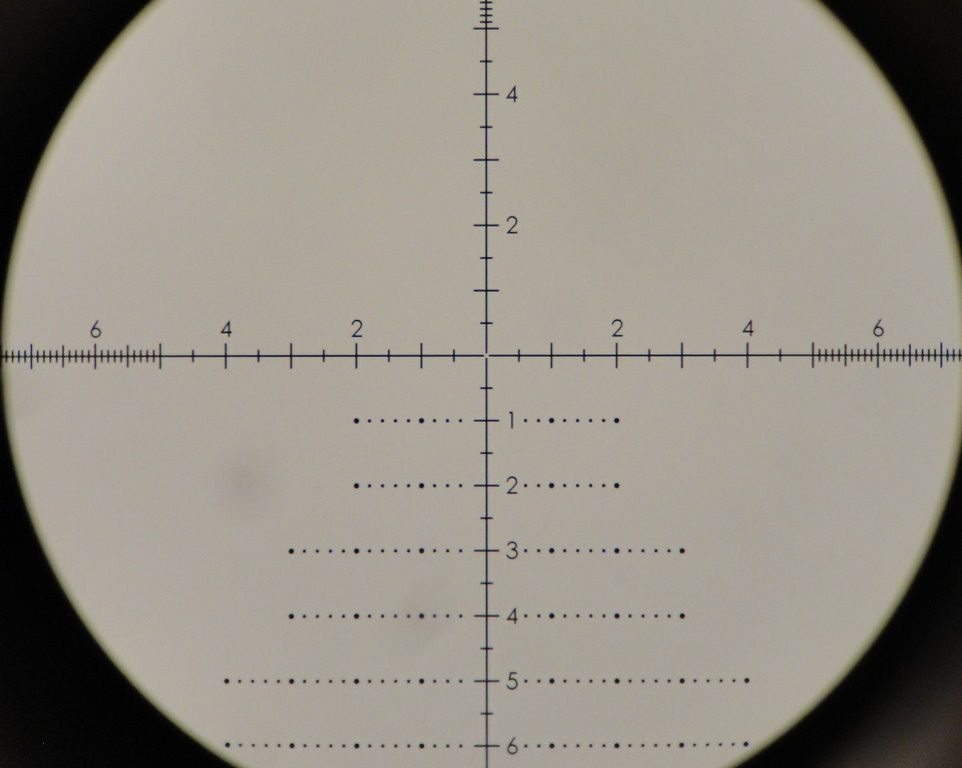 The pictures below were taken with the scope set on 27X, 20X, 15X and 10X @ 420 yards. The head of the turkeys are 4.5" wide. According to my notes, it was almost 90°F when these pictures were taken.
Ruggedness Testing:
Keeping in mind that Vortex will want this scope back sooner or later (hopefully later) I only tested the ruggedness to a certain degree. Unlike my T&E on the Gen I Razor, I put the scope through the following prior to mounting it up.
1. 6 good whacks on a telephone book w/ the elevation knob in the 12 o'clock position.
2. 6 good whacks on a telephone book w/ the bottom of the scope in the 12 o'clock position.
3. 6 good whacks on a telephone book w/ the windage knob in the 12 o'clock position.
4. 6 good whacks on a telephone book w/ the parallax knob in the 12 o'clock position.
5. Spun the windage and elevation turrets until my hands got tired a few minutes each day for 4 days.
Track Testing:
I used my Newman Precision 308win to run a track test on the elevation and windage at 50 meters on a 5 centimeter grid target. The rifle was zeroed at 50 meters and I used the same point-of-aim while dialing up 1 mil in between shots. I ran out of target at 17mils.
Normally I would do this test on a private bay, but did not have access to one on this day. I ended up zeroing the scope and performed the elevation track test within a 15minute firing period on our public range. Feeling a lil rushed, I did end up slapping the trigger a few times as you can see. Total rounds fired in this time period was 25.
The EBR-2C reticle lined up perfectly with the grid and I found the elevation and windage adjustments to be true.
After taking the Gen II Razor from 200 to 1000 yards on paper on our HP range, I found the optic tracked very well with my Applied Ballistics Kestrel. All the numbers matched up with my previous data and the reticle hold overs were true to what I dialed for a specific distance on my Newman 308win.
My DOPE was consistent range session to range session. I did not note any unexpected POI shifts or indications of tracking issues. When you dialed in 1mil, you got 1mil.

Infinite zero feature & Zeroing the optic:
I took the following steps to zero the optic:
1. Mount and level the scope.
2. Make sure your elevation and windage turret are indexed on zero and in the unlocked position.
3. Unscrew the caps on top of the turret that cover the elevation and windage dials used to zero the optic. You will need a small flat head screw driver to turn these dials.
4. Loosen the 3 hex screws on the elevation and windage knob with the wrench provided.
5. Zero the rifle and tighten up the 3 hex screws on each turret. DONE.
After using the Gen I Razors for several years now, I have grown to really like the "Infinite Zero" feature that the Razor HD line offers. Instead of having to adjust in 0.1mrad per click, the smooth turn infinite zero allows the user to adjust 0.05mil or even less if you have steady hands. A lot of times with mil based optics, you always end up in between tenths from a dead nuts zero, but not with this system.
**Note: I just hand tightened the turret caps and they never came loose.**

With a little time and effort a user can really dial in their zero with this feature.

Repeatability Testing:
Rifle: Newman Precision 308win
Temp: High 80s
Wind: Coming from 10 o'clock @ 3-5mph
175SMK @ 2745FPS out of a 24" Rock Creek 5R barrel.
Target: 6" Shoot N C @ 200yds. The 9-ring of the Shoot N C is 3" in diameter.
A repeatability test was performed to ensure the scope would return to the same point of impact after spinning the elevation and windage turrets. This test was conducted at 200 yards so any shift in point of impact would show up clearly.
In between each shot fired I spun the elevation up to 14 mils and back to zero 3-4 times as fast as I could. Then I spun the windage knob 5mils right/5mils left several times. Returned both knobs back to zero. Dialed my 0.4 in for elevation and fired 1 round using the same point of aim.
1. Round 1 was fired with 0.2mils dialed in for elevation. Silly me, I am shooting a 308win, not a hot rod.
2. Rounds 2 – 8 were fired with 0.4 dialed in for elevation. Not bad, but not great.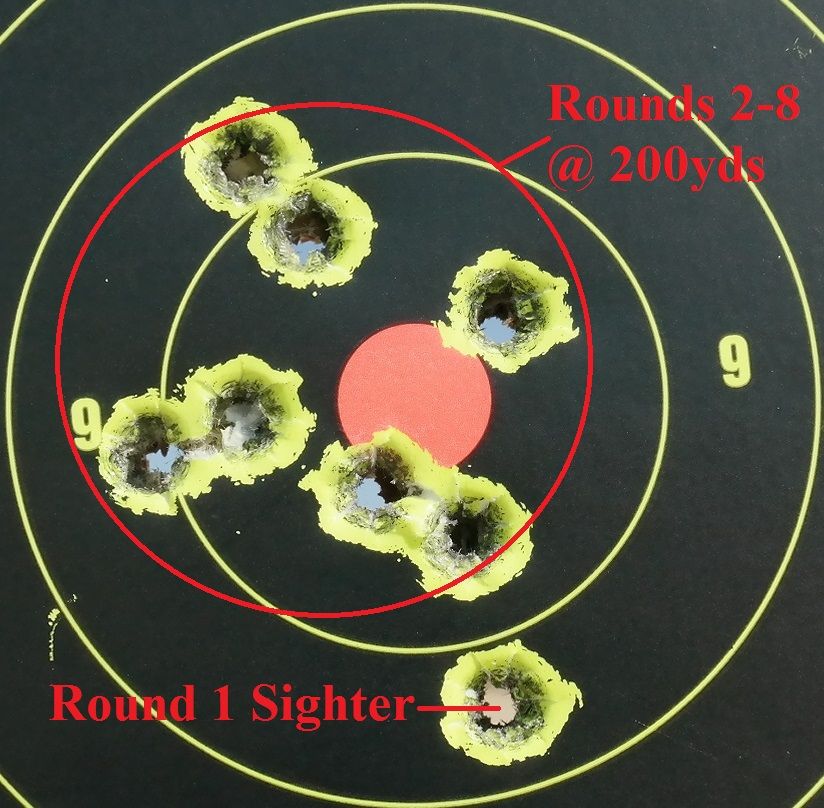 I will note, getting comfortable behind my McMillan A5 took several rounds after driving my "Animal" built 260 in a KMW Sentinel stock for almost a year now. I was disappointed with the first 8 rounds on target #1 because I know my 308win is capable of tighter groups. I decided to repeat the test again with 10 more rounds.
Rounds 9-18 were fired with 0.5mils dialed on the gun. I added a 0.1mil to see if the POI would shift accordingly.
From the results, I believe the Gen II Razor performed as designed and kept the same point of impact after repeated adjustments of both the elevation and windage turrets.
Quality of Glass:
Before we dive into this, I want to make it clear that this test was performed using the good ol' eyeball and not with any special optical tools or scientific methods. The test was completely subjective and was conducted with the help of a dozen of my fellow NCPPRC members. We had every major brand of optic available to compare the glass with the Gen II Razor. The only optics I could not get my hands on were:
• Hensoldt 3.5-26x56mm
• Schmidt & Bender 3-27x56mm
• Nightforce Beast 5-25x56mm
All optics used in this comparison had a maximum magnification range of 22x to 27x to keep things on par. Temps were low 90s with a slight breeze that afternoon.
We had a dozen shooters, 8 – 10 rifles with various optics, and a rocky ridge located 1100 to 1300yards away. Like I said, this was not very scientific.
These pictures are for references purposes and taken at the optics max magnification setting.
Vortex Razor Gen II

S&B 5-25 PM II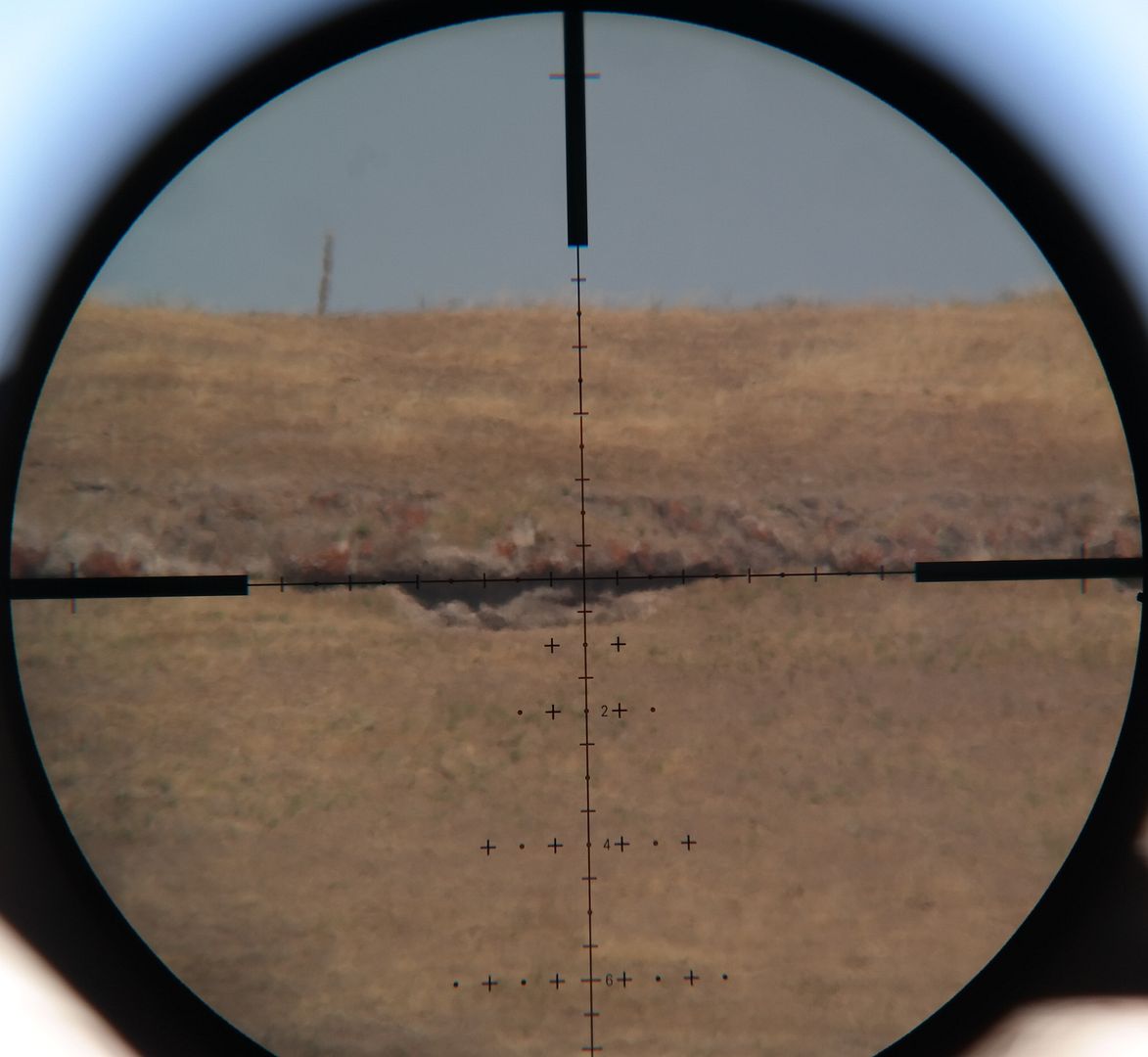 After everyone looked through all the optics side by side extensively, we agreed on the following conclusion.
• Based on glass quality alone, the top three optics were the Vortex Gen II Razor, S&B 5-25, and Kahles 624i.
• The Vortex Razor HD Gen II glass is 90% to maybe 95% of the S&B glass in our opinion. The S&B had a slight edge when it came to resolution, but the Gen II Razor has better contrast. Colors just "popped" more. Surprisingly, the brightest glass out of the bunch was the Kahles 624i
• Edge to edge clarity on the Razor was good.
• The eye box is very forgiving on the higher magnification ranges of 20x – 27x.
• Glass quality on the Razor HD Gen II is good throughout the magnification range.
• No tunneling on the lower magnification ranges.
Price Point and value:
Like the glass quality section of this evaluation, this portion is also comprised of my personal opinions based on my experiences with this optic and others in the past/present.
The MSRP on the Vortex Razor HD Gen II is 2999.00 with a rumored street price of 2500.00 to 2600.00. At this price point, an end user would be hard pressed to find another optic with the features, quality, and glass in the Vortex Razor HD Gen II.
 Great glass
 10mil knobs
 Zero stop
 Locking turrets
 Illuminated reticle
 2nd and 3rd Revolution indicator
 Great MILs and MOA based reticle choices
 FFP
 Infinite zero to really fine tune that 100yd zero
 Simplistic and user friendly design
 Lifetime No Fault VIP warranty.
http://www.vortexoptics.com/content/vip_warranty
With optics like the S&B 5-25x PMII going north of $4000.00 ($6,500+ for the 3-27x) and only carrying an official 2 year warranty, the Vortex Razor HD Gen II option looks even more attractive with their Lifetime No Fault VIP warranty. For a competitive shooter like myself that has 5 to 6 precision rifles at any given time, this gives me an opportunity to scope all of them with a premium optic without selling any organs. Vortex's warranty program also gives end users that are not so easy on their gear peace of mind as well.
Dislikes and Wants:
Like with anything else, there are always small things here and there that can be tweaked to improve on the system. That being said, it was really hard to find things I didn't like about the Razor HD Gen II.
• Some will find the scope heavy depending on what the primary use of the rifle will be. Personally, I don't care about a few ounces if the scope tracks, has repeatable adjustments, and is dependable.
• For left handed shooters, the Revolution Indicator is located at the 9 o'clock position and is out of the field of view while behind the rifle. Locating this indicator at the 7 o'clock position would have been ideal.
• Locking ring for the rear ocular focus ring. It is probably my OCD kicking in, but I really hate it when people adjust the rear focus while checking out my scope. Electrical tape does the job, but is not as sexy as a built in locking ring.
Durability & Reliability:
Only time will tell since the Vortex Razor HD Gen II was released to the general public in June 2014. We'll know over the next year or two once the optic gets into the hands of more end users.
However if you take into account Vortex's previous models like the Razor HD 5-20x, Razor HD 1-6, and PST line of optics, the company is known for producing durable, quality products for some time now.
EVERY optic will go down eventually if used for their intended purpose. I personally pay more attention to how many, how often, and if there is a consistent issue with a particular part or functionality. I am more interested in the overall percentage of failures in a particular brand and model, how many go back for repair verses the total number produced or see being used in the field.
Extended field testing:
This extended field test will be conducted over the next 6 – 8 months and another report will be published after it has completed.
Being OCD and being a creature of habit made it very difficult for me to deviate from a rifle/optic combo that has performed well for me over the last year. I really wanted to see if the new Razor HD Gen II would perform up to my expectations.
At this point, I knew the Razor HD Gen II tracked true and the glass was good to go. But how would it perform on game day at a major match compared to my beloved S&B 5-25x PMII Gen II XR? Will I miss my S&B?
I took the S&B off my Animal built 260rem and mounted up the Gen II Razor to shoot the following matches:
1. Monthly NCPPRC Long Range and Steel matches (7 to 10 matches)
2. SureFire Precision Rifle Match hosted by Mike Voigt (September of 2014)
3. Las Vegas Sin City Precision Rifle Match (January of 2015)
4. Arizona TPRC (TBD)
Final Thoughts:
I am completely sold after running the Vortex Razor HD Gen II for the last 45 days. The Razor HD Gen II is an elite optic without the elitist price tag. In an era of optic prices going up every year, it is very refreshing to see an optic of this quality in the $2500.00 range. I am sure there will be days where I will miss that little extra bit of clarity and resolution in my S&B, but I believe the Razor HD Gen II 4-27x is a solid performer and will serve me well. I actually ended up selling my S&B 5-25x GenII XR to help fund two Gen II Razors of my own.
The EBR-2C reticle has really grown on me and will be my reticle of choice when ordering future Gen II Razors. Vortex also gave the end user a lot more mounting options by going to a 34mm main tube vs. a 35mm like on the Gen I Razor.
In my opinion this Razor will dominate the optics in $2000.00 to $3000.00 price range, and will easily keep up with optics in the $3000.00 + price range.
Francis "The Animal" Kuehl with Team GA Precision won the 2014 NorCal Tactical Bolt Rifle Challenge with this optic. Other end users like Frank Gali of Snipershide, Rob Ormond with Team Hornady, and Terry Cross of KMW Rifles have all had positive things to say as well. There is no doubt that the overall consensus is Vortex hit a home run with the release of this scope.
In closing I would like thank Scott Parks and Vortex Optics for giving me an opportunity to test drive the Razor HD Gen II. I know these scopes are in high demand and a lot of shooters are wanting to get behind one. I also would like to thank Vortex Optics for their continued support of our shooting sports, not just in the precision rifles arena, but in all of our shooting sports. They have been a great company to work with over the years and have supported a lot of projects involving a wide range of shooting disciplines.
This concludes Vu's review of the Vortex Razor HD Gen II 4.5-27×56 scope. If you have found this information useful, please feel free to give him a shoutout on www.Calguns.net where you can ask him questions or comment to him in his review post:
http://www.calguns.net/calgunforum/showthread.php?t=970245
He has given full permission on reposting his review on this website. Again, thank you to Vu Pham of Norcal Practical Precision Rifle Club for this very comprehensive review!