---
Zen Ray Prime HD 8×42 Binoculars
---
So gearing up for hunting this upcoming season, I needed a pair of binoculars. But I didnt want just any pair of binoculars. Sure, I might be able to get by with some el cheapo pair of discount nocs, but that's not my style anymore……through trial and error (hint: wasting money and learning from it), I have come to realize that you typically get what you pay for, espcially when it comes to glass quality! I have officially been spoiled by great glass on my rifles (Trijicon), I can no longer stand bad or even mediocre glass. Unfortunately, that presents a problem as I do not exactly have the funds for Swarovski quality glass…..not to mention that spending $3000 is just flat our irresponsible if it means I cant put food on the table for my family! So In comes the Zen Ray Prime HD 8×42 Binoculars.
Being one who studies and researches a LOT before making a purchase, I was able to narrow it down to about 4 serious contenders in the 8x magnification level: Nikon Monarch 7 or Monarch X, Vortex Viper HD or Talon HD, Vanguard Endeavor HD, and the Zen Ray ED3/Prime HD's. But a few of the much touted options were not readily available through the local brick and mortar stores. And being that I was going to be spending hundreds of dollars, I really didnt like the idea of buying sight unseen. So I went to Sportsmans Warehouse and low and behold, they had a good sale on the Nikon Monarch X 10.5-45's. In the store they looked great. But looking through them more and more I noticed strange coloring in the picture, ESPECIALLY on objects with hard lines against a bright background. I researched and found out it is called "chromatic abberation" (AKA: Color Fringing). This happens often due to the glass not having low dispersion, which separates the the colors from the sight picture and ends up not hitting the same areas of your eye. I could show you diagrams of this, but it is not my intention to explain these issues in this review. Just know that some people are more susceptible to color fringing than others. I am apparently hyper sensitive. I ended up taking them back and looking at some of the newer Nikon lines, like the Monarch 5 and 7. I liked the 7 in the store but they just cost too much money. Same with the Vortex lines: They had okay glass, but after looking through some Swaro's, I couldn't get past the lack of ED glass and the small field of view…..it made a big difference to my eyes. And they were $500. I couldn't see the Vanguards in person as they really only sell them online….they aren't a big name brand, so stores are not likely to carry them. I passed on another purchase and began to research more.
I couldn't shake the Zen Ray reviews. I loved the specs, they looked great but I just couldn't find them in person. The Vanguards also had the same high review ratings, but they had a much smaller field of view compared to the Zen Rays, but they were also $70 cheaper at the time.  It became clear that unless I was willing to spend a butt load of cash, I wasn't going to get what I was looking for in the stores that sell the big name brand stuff. I ended up taking the plunge and buying the Zen Ray ED3 8×43. These are their middle range models that are sold for $416. When I got them, I had high expectations. For the most part, they were met as well. There wasn't an ounce of color fringing, they had super clear glass and a pretty generous sweet spot. But I did have a few gripes: For one, the pair I bought had a rough spot in the focus wheel. When I twisted the focus knob, it appeared to be canted one direction, so whenever it was twisted far enough, it would rub against one of the barrels. An annoyance, but livable for me. But the bigger issue was that the outer 30% of the image was not in focus when the center was. The final straw for me was the fact that there was too much pin cushion for my liking…..straight lines bowed downward in the bottom half and upward in the upper half. Semi Trucks driving by really exacerbated the globe/rolling ball effect as their straight lines on the trailers bent up and down (top, upwards….bottom, downwards). I was really looking for a pair that had had a really flat field that also had good edge to edge clarity….I wanted to be able to make use of that beautifully large field of view.
I decided to upgrade to the Prime HD 8×42 model. It was more than I initially was willing to spend but I just couldn't find a pair of binoculars that had all the specs that I wanted in the $400-500 price range. The switch was easy with Zen Ray. I called them, told them my issues with the ED3's and they game me an RMA. The had me ship it back and all they required was a tracking number. I shipped it on a Saturday and I had the new Primes in my mailbox on Monday. Evidently by giving them the tracking number, they trusted me enough to ship the other pair out BEFORE they received the ED3's back! Super fast, very easy. At any rate, I eagerly opened up the box and started looking through them. Immediately I found what I was looking for! These Primes are amazing for the price. The upgrade was $193 more, which in all honesty coming from the ED3's is going to be hard to justify for most people. The ED3's and the Primes have many similarities…..the way they "feel" when you bring them up to your eyes has that Swarovsky feel. It's really hard to explain but I could have sworn I was looking through a pair of Swaros. Very good eye relief, SUPER clean glass (also exhibited in the ED3 model), flat field with great tight focus, bleeding edge to bleeding edge sharpness, HUGE field of view (426ft @ 1000 yards!). I wasn't sure why the ED3's got 43mm objectives and the Primes had 42mm's, but it's really a negligible difference. I noticed a very, VERY slight light difference in light throughput at dusk…..almost not even worth mentioning. As I understand it, the ED3's are about 1% brighter due to the larger objective and the lack of a field flattener, which adds another pane of glass to look through. But like I said, it's negligible. The Prime HD's have the Extra-low Dispersion Glass and their Gen II dialectic prism coating.  The lenses have 99.7% light transmission through each pane of glass, fully multicoated lenses, phase corrected BAK4 prisms, 100% waterproof and fogproof argon charged barrels, and rubber coated for durability. They are also friendly for people with glasses as the eye cups go nearly all the way flush with the ocular lenses (maybe 1-2mm off).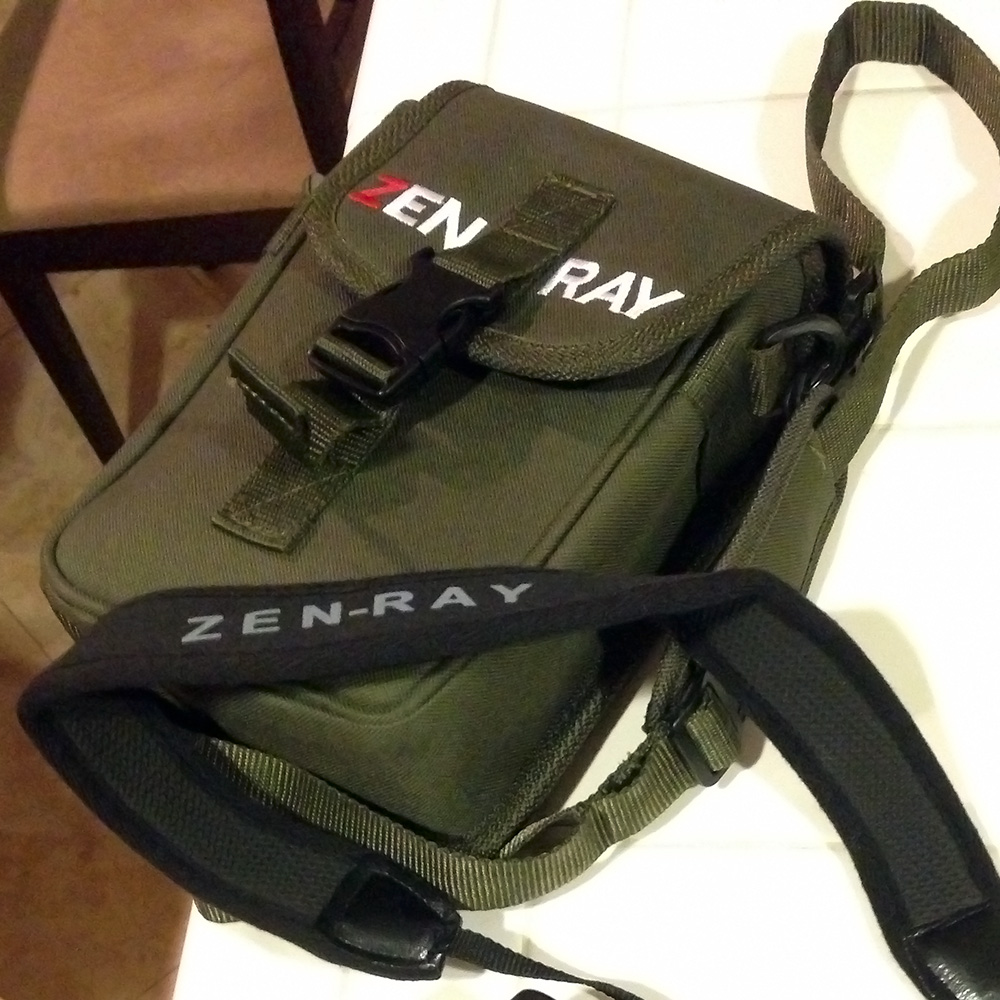 The eye caps have three different settings and lightly click into place:
All the way in: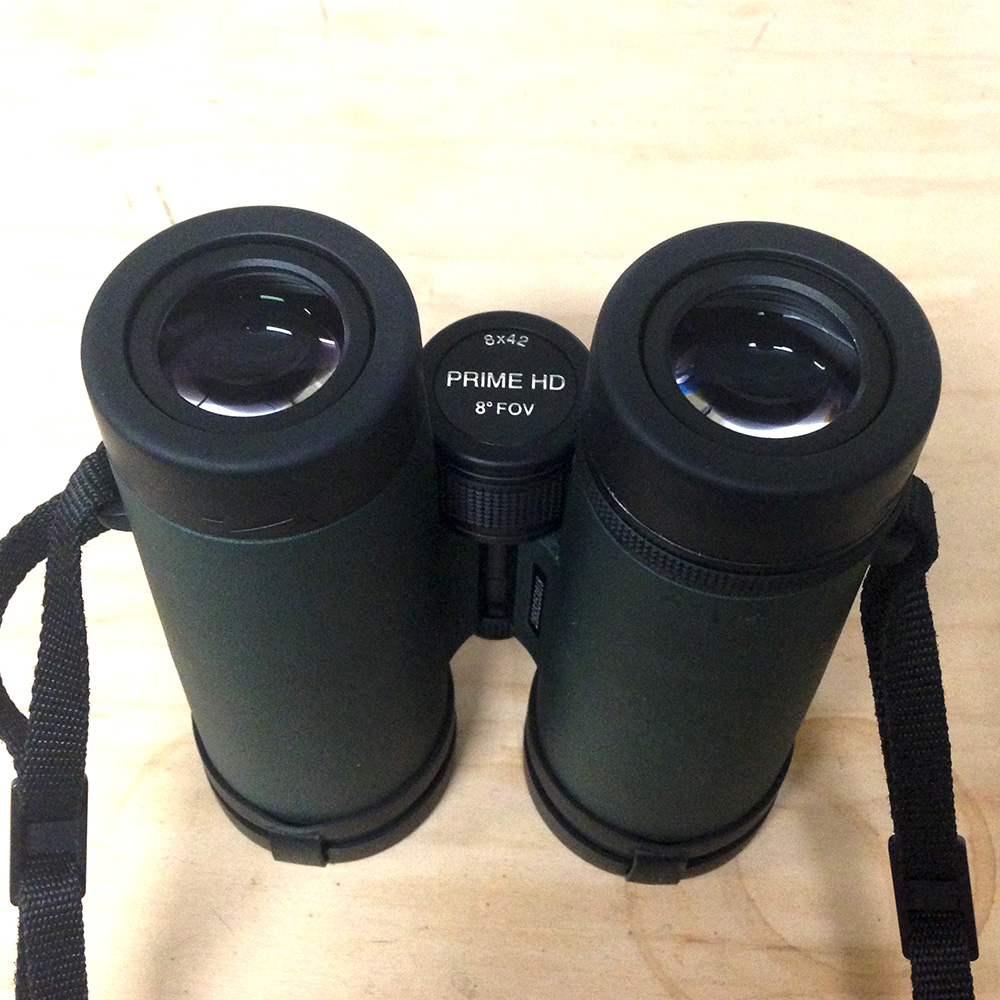 Half way out: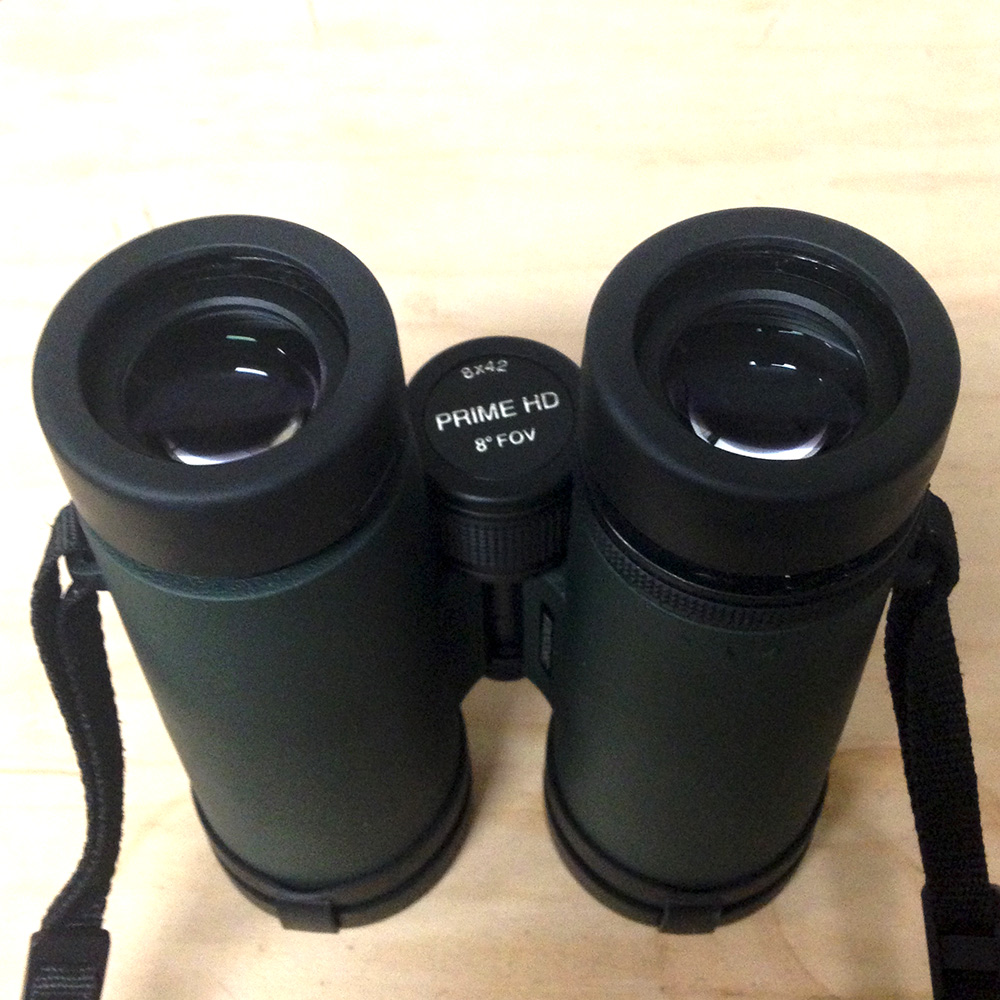 All the way out: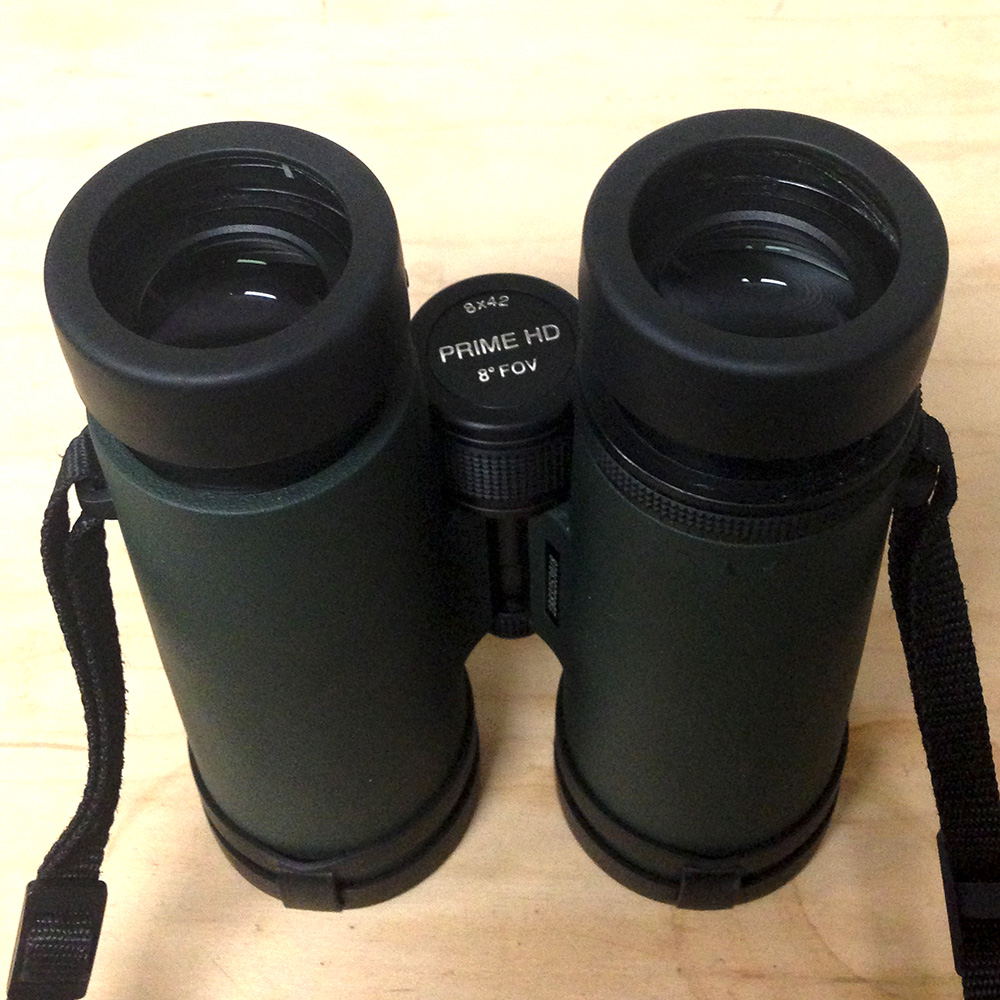 I personally like in-between all the way in and half way out. Unfortunately that setting is not an option, so I typically opt for all the way in and just let the inner-under sides of the eye pieces rest on the bridge of my nose. This way I can get the full field of view, and also still maintain peripheral vision outside of the binoculars. It's like a scope that has very little to no border around the ocular when looking through it on a rifle. I like that feel. The focus knob is near butter smooth. Compared to the Swaro's, it's not as smooth, but I certainly cant complain about it. There is also no play left or right in it before it engages the focus adjustment. The ED3 did have a little play.
Anyway, besides all the praise I have for the HD Primes, I do have a few gripes after having them for a few months:
1) One  eye cup has become unglued and twist very easily from the eye piece because there's nothing for them to hold onto the metal eye piece anymore. I will need to RMA, unfortunately.
2) To my eyes, there is still a very slight chromatic abberation to the Prime HD's. I did not see this at all in the ED3's….they were completely free of CA. I have to wonder if it is the field flattener that is introducing this effect, or just a quality control issue in my pair. It is not a heavy amount by any means though and only shows up in certain conditions. Again, keep in mind that I am extremely sensitive to this effect for some reason, so your mileage may vary.
3) They are a bit weighty after extended use
4) I do find myself wishing I had slightly more magnification at times, but I know that comes with the downside of more image shake, so it's not necessarily a con, just something I couldn't have both ways, so I opted for less shake/less magnification.
5) The ED3 had a perfect center spot on the adjustable ocular and both barrels were perfectly clear with no blurriness. However, my Prime HD's is off several notches. In order to get both barrels with no blurriness, I have to have the dioper adjusted about 75% out, vs the 50% middle notch. Not a deal breaker because once it's adjusted to the right spot, it's just fine. But still something to note.
6) One of the things that would have been a nice touch is if it had a way to lock down the diopter lens adjustment. It has a very smooth adjuster….not lose, but it can be bumped or rubbed and get out of focus. The Swaro's locking adjustment would have been very cool on this unit.
Here's a picture that I took on a road trip through the Northwest this summer: Please note that other than a crop and resize, I have not altered or photoshopped this picture in any way shape or form. This was an iPhone 5 looking through one of the barrels.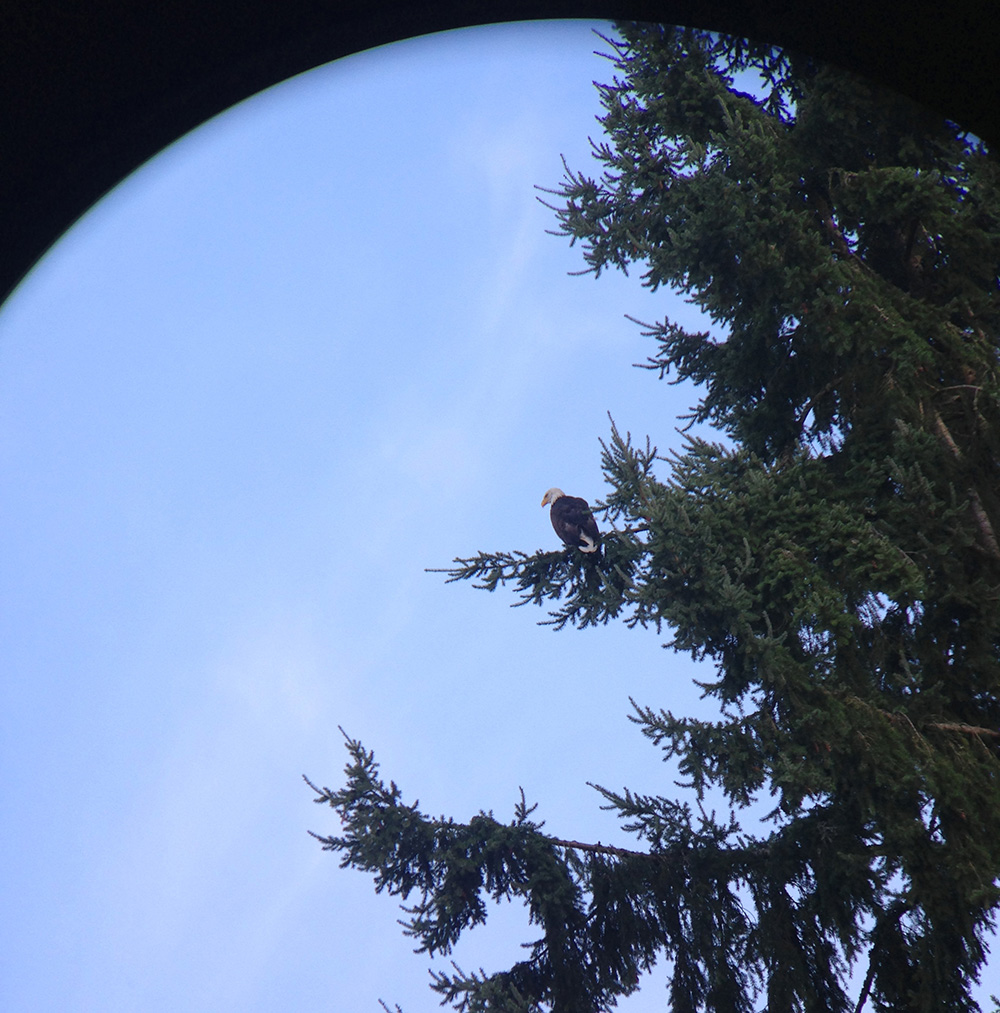 This one is further cropped and blown way up, so from the iPhone's crappy camera resolution, it's obviously coming out very pixelated and blurry. Still cool and not too terribly bad though from doing it hand-held!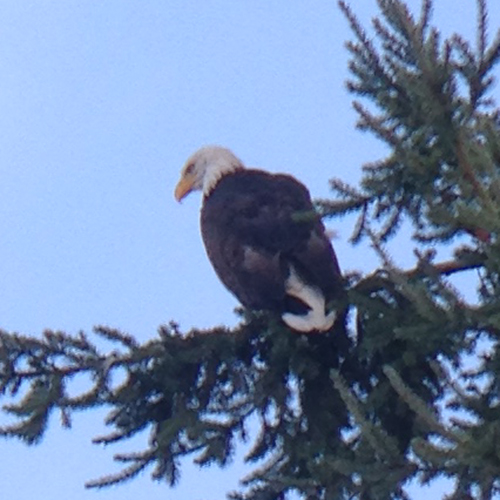 I should mention that this picture does not do the actual sight picture justice at all. When I was looking at that bald eagle in person, it felt about 10 times closer up. I could see all sorts of details on him and felt like I was right next to him. I wish I had my tripod and my Canon DSLR with me at the time I saw this Bald Eagle…..he was perched up on that branch about 200-300 ft or so away from me. It's extremely hard trying to show you in a picture how it actually looks or feels in person…..especially coming from an iPhone! I've come to the conclusion that it is just impossible to do. The field of view is so wide, no lens or camera I have can come close to getting the full sight picture! And not to mention using two eyes give the 3D view, which makes a big difference.
Overall, I think Zen-Ray has nearly knocked the ball out of the park with this pair of binoculars. Save the few QC issues you may have to deal with and the lack of ocular lens adjustment lock, you need not worry if you are getting quality glass in this pair of binoculars. In an honest opinion of how good this glass is, I would say that the sight picture is about 95% of what the Swarovski EL 42's are. Yes, they are that clear. Now, obviously with Swaro, you are buying Euro glass, and also paying in my opinion for slightly better ergonomics, higher quality construction and better QC over their product, and finally some "nice touch" features that go above and beyond. But come on….for $2100 MORE than these Prime HD's? Not a chance in hades would I pay that much more unless I liked giving away money and had TONS of it. Optically, these are right up there with the EL's and 99% of people couldn't tell the difference in the sight picture. The nail in the coffin for me is the fact that Zen Ray has an unlimited, no-fault, 100% transferable warranty on their ED2/ED3 and Prime HD product lines (their lower/older products have a different limited warranty). If you smash up a barrel or crack the glass, send it in to them and pay $10 and you're set up with a brand new or repaired pair. As I've already said, I used the Warranty and they upgraded me simply for the difference. And they were extremely fast about it! I am fully expecting the same level of service the second time around for the loose rubber eye cup sleeve and will update this post if anything changes. I'd like to see Swarovski match that kind of warranty!
The binoculars can be purchased through resellers, or straight from Zen Ray via their website:
http://www.zen-ray.com/shop/binoculars/prime-hd/prime-hd-842.html (note: I DO NOT make money with this link).
Happy birding/hunting!